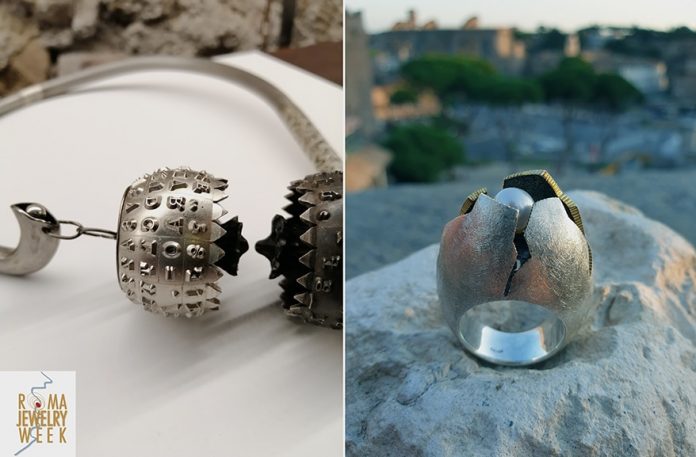 Roma Jewelry Week will be held from 11 to 17 October 2021. The international event that enhances and spreads the culture of contemporary jewelry, artist jewel and historical goldsmiths officially open its doors to its first edition. The goal of the project is to boost the synergy between the territory and its productive activities.
The RJW event is created by Architect Monica Cecchini, director and project curator. The selection of the realities involved is due to the curatorship of goldsmith artist Emanuele Leonardi and Bianca Cappello jewelry historian and critic. Journalist Jonathan Giustini will moderate one of the scheduled events. Marketing and press communication project is managed by the consultant Eugenia Gadaleta.
RJW can boast to date the "Università e Nobil Collegio degli Orefici, Gioiellieri, Argentieri dell'Alma Città di Roma" participation together with the "Console Camerlengo dell'Università "Aldo Vitali and among the various participant associations AGC Associazione Gioiello Contemporaneo, Officine di Talenti Preziosi and Accademia Italiana, university level art training school for fashion, design and photography to name a few. The event is realized also thanks to the support of the sponsor Montanelli Restauri S.r.l.
Protagonists are the jewelry designers and the excellence of the Roman goldsmiths, jewel boutiques, art galleries, academies and associations based in Rome. Upon selection the exhibition would be possible to designers from other Italian cities or from abroad.
Seven Roman days of culture and lively beauty through exhibitions, presentations, talks, awards, to live and to revive the Capital thanks to a brand new project for the city where inclusion, connection and joy are keywords. Paper and virtual maps will be available to visitors to know all the places to visit. Furthermore, visits to exclusive sites and to all the participant realities will be organized during the event.
Many applications to join the project have arrived in a few weeks, meaning that goldsmiths and jewels designers want to start again and show the world the best in this field.
Especially in this complex historical period, the city must reclaim the spaces dedicated to Arts, to Design and to Craftsmanship and it must return to attract not only for its magnificent historical vestige but also for the immense heritage in the field of artistic jewel. Giving life to such an important event for the city of Rome is a great challenge and a great responsibility, which takes on new values and a renewed creative impetus today.
Premio Incinque Jewels will be the flagship event of the Roma Jewelry Week: it is promoted by Incinque Open Art Monti Association and is a contest which intend to enhance the culture of Contemporary Jewelry in Rome. It will take place from 15 to 17 October in the archaeological site Auditorium di Mecenate dated back 30 B.C. for the first time.
The panel will be constituted by a group of experts in the field: Laura Astrologo Porché, Celebre Magazine World jewelry journalist and owner of Instagram page @journaldesbijoux; Barbara Brocchi, Creative Manager, Illustrator, writer, designer and IED Teacher; Bianca Cappello, jewelry and costume jewelry historian, teacher and author of many books and articles; Eugenia Gadaleta, press consultant and creator of Milano Jewelry Tour project; Emanuele Leonardi, Premio Incinque Jewels Art Director and goldsmith artist creator of "Gioiello Narratore"; Matilde Pavone high jewelry master goldsmith, coordinator and teacher of the jewelry design course at the Accademia Italiana Roma; Marina Valli, jewel designer, President of the roman "Officine dei Talenti Preziosi" OTP and teacher in jewelry design; Jonathan Giustini writer and journalist and Monica Cecchini, Architect, Designer and Art Event curator, Open Art Monti Cultural Association's President and founder of the Roma Jewelry Week project.
"It is important to create a cooperation system to give voice and raise awareness of the excellence in this field at international level – Monica Cecchini affirms– we want to create a reference event to enhance the city of Rome and its vast cultural, intangible and artistic heritage that meets the need of a new type of tourism completely different from the hasty and consumerist one.".