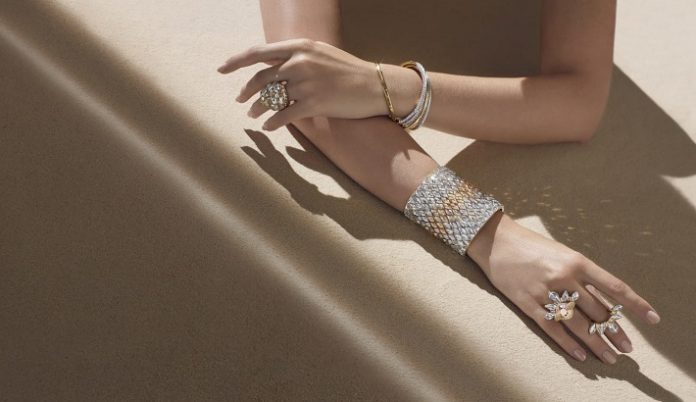 Global jewellery brand Swarovski has revealed a host of new brand ambassadors for its 2019 #FollowTheLight influencer campaign.
The new campaign is a celebration of inspirational women empowering one another to shine bright together and be the best version of themselves.
Building on the SS19 campaign, which launched in January, #FollowTheLight sees a host of both new, and returning, brand ambassadors who embody female empowerment, and demonstrate what can be achieved when women support one another.
Having worked with Swarovski in 2018, telling her personal story of how she stood up to fear and embraced change, Great British Bake Off winner Nadiya Hussain returns as a Swarovski #FollowTheLight ambassador for 2019.
Nadiya Hussain continues to push her limits and use her strong female voice to tell her inspiring story, celebrating her strengths as a woman, and encouraging others to do the same.
For SS19, Nadiya Hussain is joined by Giovanna Fletcher, a woman who has built her career by encouraging other women to follow their ambitions and lift each other up.
As a mother to three boys, Giovanna Fletcher has documented her personal journey through motherhood via her YouTube and Instagram channel and has since built a successful career as an author. Fletcher encourages positivity on her social media channels, and is a shining example of 'girl power'.
England footballers Leah Williamson and Fran Kirby will also star alongside Nadiya Hussain and Giovanna Fletcher and complete the line-up of ambassadors.
The two footballers embody team spirit, with the success of the England Football Team relying on its players supporting one another and playing together as a team.
Leah Williamson and Fran Kirby will be challenging perceptions and casting aside stereotypes by appearing in Swarovski's #FollowTheLight campaign alongside their sporting commitments.
While the campaign is yet to be unveiled yet, as always Swarovski will be using its brand ambassadors to create engaging social media content and interactive consumer events.
NewsSource: professionaljeweller