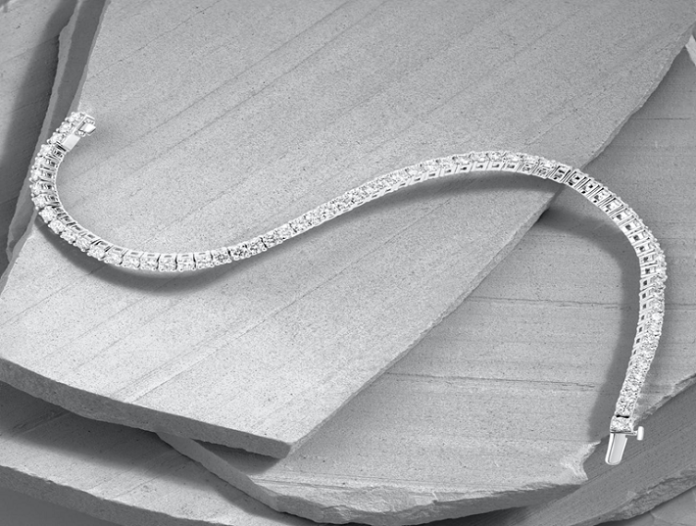 A diamond bracelet is the foundation of every capsule jewellery collection, so if you're searching for a classic design to add to your collection, a diamond bracelet is the one to add in.
Diamond bracelets can brighten up any appearance and are excellent for everyday wear, the workplace, and especially formal black-tie events. Even as the "tennis bracelet" is one of the most popular diamond bracelet styles, not every diamond bracelet is the popular "tennis" design. A diamond bracelet can be designed in a variety of distinctive settings to produce a piece that is customised and precisely fitted to each personality.
When looking for the best diamond bracelet, the following are the most common settings and designs to keep in mind. Let's check out:
Prong setting tennis bracelet:
The little metal hooks that secure each diamond to a piece of jewellery are known as prongs. Tennis bracelets with prongs are the most common type. The amount of prongs in a setting affects how it is designed, with more prongs providing more protection for the diamond.
Bigger diamond carats should be supported by four or even more prongs, with six being the most secure. Smaller carat diamond bracelets, on the other hand, can be fitted securely with three prongs.
Bezel or half bezel setting:
Tennis bracelets with bezel settings have a circular mount that keeps each diamond in place, whereas half-bezel settings include little bars or half-circles on each side of the diamond to lock the diamond within the frame.
 Tennis bracelets with bezels have a modern look and are a fantastic choice if your personal style is more classy and smooth.
Unfortunately, because of the limited light interaction, this setting tends to showcase the metal as much as the stone and can lessen the stone's shine. The metal totally conceals the diamond, leaving just the top view sparkling.
Channel setting:
This design is distinguished by a continuous row of strain stones inside the metal. Channel settings, which provide a clear line of colour or glitter, are a very popular design feature.
Due to the way diamonds are positioned, the channel setting allows for more light contact than bezel settings, giving it a good combination of shine and matte.
Charm setting:
Charm bracelets are seeing a fashion comeback. While the original charm bracelet is distinguished by a linked chain adorned with swinging charms, newer varieties have a bezel design in which charms are fused into the setting.
You can add your word-initial made up of diamonds or any symbol like heart or infinity.
Alternative gemstone setting:
Instead of the same line of diamonds, another popular option for bracelets is to use gemstones. This gives you access to a world of colour and styles.
 Sapphires, emeralds, and rubies are the most preferred gemstones for these types of bracelets since they are valuable gemstones with high monetary worth.
Semi-precious stones such as topaz, aquamarine, and citrine, on the other hand, may provide wonderful colour to your bracelet.