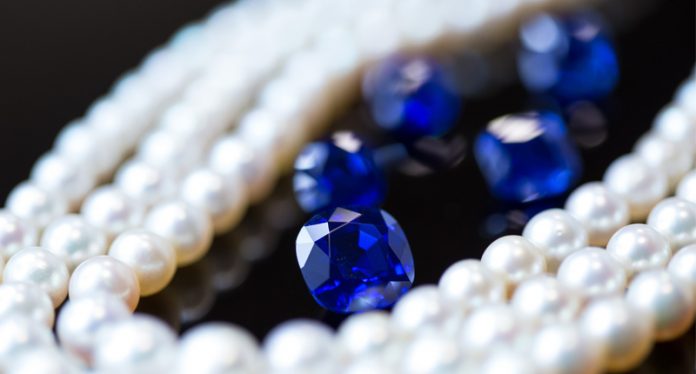 Geneva- A new trade show is happening this May in Geneva, Switzerland, and it is aiming to fill what it feels is a gap in the market.
GemGenève, taking place May 10 through 13 at the Palexpo, is the brainchild of two trade show veterans—not organizers but exhibitors—Thomas Färber of Faerber Collection, specializing in rare antique jewelry and exceptional gemstones, and Ronny Totah of Horovitz & Totah SA, which deals in diamonds, gemstones and finished jewelry.
"Both of us have been exhibiting at many shows for many decades," Färber explained to National Jeweler at a press conference held in New York last week, noting that he had exhibited at Baselworld for 44 years and Totah for 27 years. "We thought that we know better what our sector of the industry needs than the big organizers."
That insider knowledge of trade shows has allowed Färber and Totah to form opinions about what works and what doesn't, and form a consensus among their fellow exhibitors.
Totah said that the idea to create their own show was "fueled by a common dissatisfaction with every show."
"All the shows are run by people who are very good at organizing shows but they don't know, really, our needs," he said. "An organizer would say a show is great because it's full. We had a feeling that something had to be done differently. We are not organizers, but still, exhibitors are following us. That shows a need."
Totah and Färber attributed the collective dissatisfaction among their peers to two causes: expenses and lack of concern about show conditions from organizers.
Färber explained, "Trade shows are very expensive. Their main target is to make a lot of money. The jewelry business is not so easy. We have expenses, we have to travel, we have insurance. The square meter prices at some of the trade shows are extremely expensive. A lot of smaller companies could not even afford it anymore."
The launch of GemGenève comes at a time when the industry is grappling with what the future of trade shows will be if some of them will be at all.
Färber said that GemGenève is by no means cheap, but it is geared toward independently-owned companies, and he and Totah will pay the same fees as all the other exhibitors at GemGenève.
"All our exhibitors are small- to mid-sized family companies. The ideas were to give these companies a platform to show what they can do, their knowledge, their know-how, their qualities and, of course, their products in a world of large companies today."
Regarding their concern about a lack of care from traditional trade show organizers, Färber and Totah feel their perspective as exhibitors will allow them to "speak the same language" as their fellow vendors.
"There are a lot of small things where you feel you are not listened to (at trade shows)," Totah said. "Organizers only care if you sign for next year and if you are not happy, another exhibitor will come (to fill your space)."
Totah explained that he and Färber intend to take into consideration all of the vendors' concerns and work to actively address them.
"We will listen," Färber said. "We won't be perfect, but we will listen."
Färber and Totah have approximately 140 vendors from more than 20 countries signed on for the first edition of the show, with the majority coming from the United States and Switzerland. Among them are Yafa Signed Jewels, Robert Procop, Jogani and L.J. West Diamonds.
Educational programming will include speakers such as jewelry historian and author Vivienne Becker, who also has curated a gallery of nine up-and-coming designers for the show.
Four laboratories, including the GIA, will have booths at the show, which will be open to the public as well as the trade.
Färber and Totah had a difficult time estimating the number of visitors this May, but they were encouraged by the passion with which vendors accepted their idea to go out on their own.
"I find it abnormal that for a first show done by people who never organized a show, it's fully booked and people are trying to reserve for next year and we have never performed anything so far," Totah said. "It's almost sad that people are so desperate that it's enough that we say we are going to do it differently and they will go."