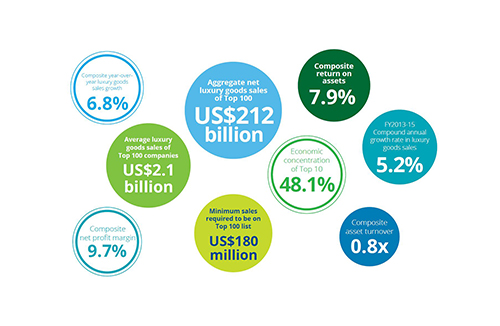 Three Indian jewellery companies have made it to the Top 100 listing in Deloitte's report "Global Powers of Luxury Goods 2017" yet again.
In the report, Gitanjali is ranked at No. 30 (up from No. 40 last year), Titan Company Ltd is at No. 31 (up from No. 32 last year)and P.C. Jewellers at No. 44 has remained in the same position.
"The fourth annual Global Powers of Luxury Goods report examines and lists the 100 largest luxury goods companies globally, based on publicly available data for consolidated sales of luxury goods in FY2015 (which we define as financial years ending within the 12 months to 30 June 2016)," Deloitte stated. "It also discusses the key trends shaping the luxury market and provides a global economic outlook."
According to the report, the 100 largest luxury goods companies in the world had a sales revenue of US$ 212 billion in FY 2015. The average annual luxury goods sales for a Top 100 company amounts to about US$ 2.1 billion.
"Consumers in emerging markets continue to drive luxury market growth," says Deloitte. "In China, Russia and the United Arab Emirates, markets that we have categorised as emerging luxury markets, the percentage of consumers claiming to have increased their spending in the last 5 years was 70 percent, compared to 53 percent in the more mature markets (EU, US and Japan)."
The report found that the Top 4 companies – LVMH Moet Hennessy-Louis Vuitton; Canpagnie Franciere Richemont; The Estee Lauder Companies Inc; and Luxoticca Group SpA – maintained their positions.
Also, while Italy emerges again as "the leading luxury goods country in terms of number of companies", France has the highest share of sales.
Another insight is that companies with a presence in multiple luxury goods sectors nearly doubled sales growth as compared to the previous year. They also lead in terms of profitability. Bags and accessories continues to be the fastest growth sector, the report says.
Interestingly, Deloitte notes: "Consumers are clear that they see the future of luxury as digital. Over 37% surveyed feel that luxury products and technology will become more closely linked. Digital channels are creating a need for large-scale, high-quality personalised content."
Pic Cap: The report's numbers at a quick glance
Infographic Courtesy: Deloitte
News Source : gjepc.org