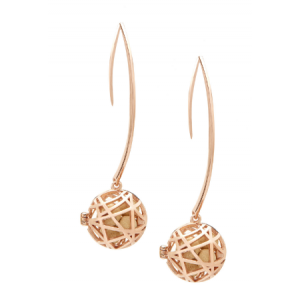 Los Angeles–based jewelry designer and perfumer Lisa Hoffman has been making beautiful jewelry that incorporates her proprietary luxury fragrances—via tiny wooden beads infused with scent—for years.
But Neo-Ethereal, the latest collection from her namesake line, pushes the concept of fragrance jewelry into chic—even edgy—territory.
The brand is ever experimenting with the shape and size of its fragrance holders, and its latest iterations—a fetching triangular vessel, one that resembles a faceted crystal, and the Nest (a slashed-line design in disc or spherical form)—fall in line with the pared-down cool of high fashion jewelry brands such as Repossi and Delfina Delettrez.
These new vessel-charms stand on their own. Fill them with beads or not—they're stunning either way.
That said, every piece of Lisa Hoffman fragrance jewelry comes with its own tiny jar of fragrance beads, which can replenish the jewelry's scent factor many times over.
Here are a few of my favorite pieces from the new collection:
Convertible Nest disc earrings, $95
Sterling silver convertible Geo-Gem earrings, $90
Top and above: Nest earrings, $89
Sterling silver Tri-Point necklace, $92
Nest disc chain bracelet, $117
News Source : jckonline.com