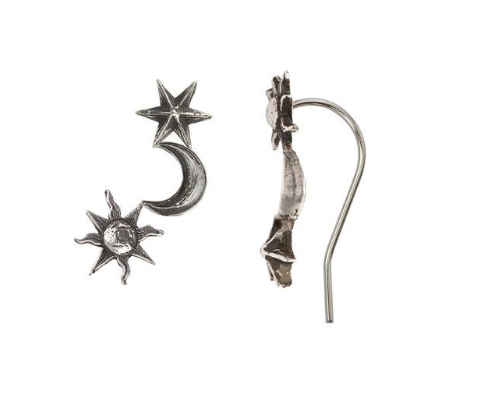 I typically go for white-metal looks that are linear and geometric. But this season I'm all in for classically bohemian silver looks.
And silver jewelry designers are indulging in the look big-time, offering up sterling baubles that pull inspiration from Asian, Arabic, and Native American silver jewelry traditions.
Brands are of course incorporating turquoise into their free-spirited designs, but also moonstone, labradorite, opal, and other of-the-moment gems.
What's brought us to this gloriously hippie-dippy moment in jewelry? Perhaps, at least in part, it's a response to all the national political angst. Who couldn't use a few baubles that hearken back to the Summer of Love right now?
Below are some summer-ready silver pieces to consider for your store.
Sterling Crop Circle hoops, $212; Laurel Hill
Turquoise and Swarovski crystal hoops, $295; Chan Luu
Reina ring, $120; Pamela Love
Sun, Moon, Stars ear crawler, $194; Pyrrha (Also at top)
Oxidized sterling necklace and diamond Hamsa necklace, $1,270; Feathered Soul
Earrings, $1,079; Alexander McQueen
Sterling silver-plated A Beautiful Mind bracelet, $125; Uno de 50
News Source: jckonline.com