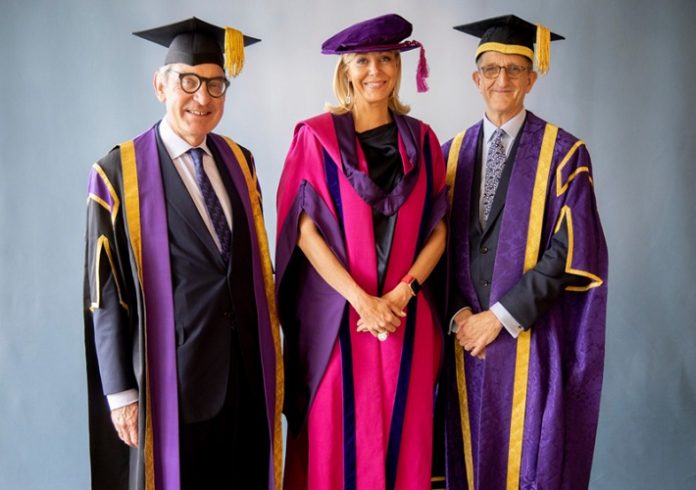 The University of the Arts London (UAL) has honoured Nadja Swarovski with the title of Honorary Doctorate, in recognition of her outstanding contribution to the field of jewellery.
The doctorate, which is one of the highest honours available from the university, was awarded at the Central Saint Martin's graduation ceremony held at the Royal Festival Hall.
Swarovski was presented with the title by UAL's vice-chancellor Sir Nigel Carrington and received the award from David Isaacs CBE, the university's chair of governors, in front of over 500 students, family and friends.
Swarovski shares: "It is a tremendous privilege to receive this honorary doctorate from the University of the Arts London.
"I offer my sincere thanks to Vice Chancellor Sir Nigel Carrington, Chair of Governors David Isaacs and the inspirational staff and students at this esteemed institution for this award.
"It has been a true privilege to collaborate with UAL for almost two decades and to witness the incredible work it undertakes nurturing global talent, guiding young creative minds, and shaping future leaders in the creative industries and business, and I am humbled by this honour."
University of the Arts London is Europe's largest specialist arts and design university, drawing together six colleges – Camberwell College of Arts, Central Saint Martins, Chelsea College of Arts, London College of Communication, London College of Fashion, and Wimbledon College of Arts.
It boasts close to 20,000 students from more than 100 countries and is the world's largest creative network, with over 200,000 alumni in over 140 countries worldwide.
As part of the longstanding commitment to nurturing new creative talent, Swarovski partnered with Central Saint Martins for over 17 years, primarily on the BA jewellery design project, providing crystals to students to incorporate into their creative designs.
News Source: professionaljeweller