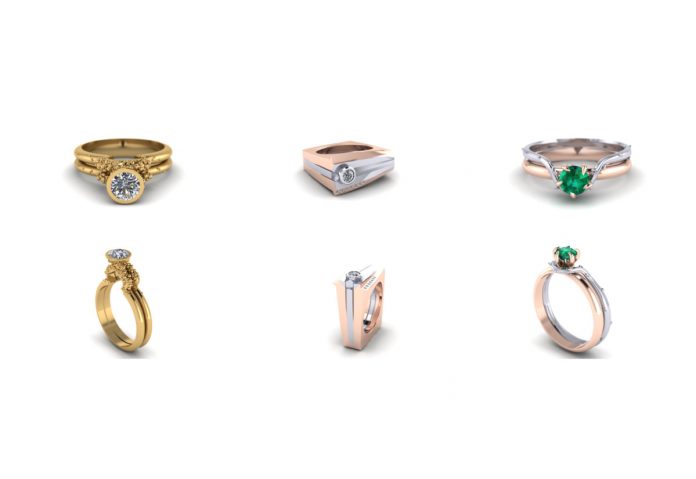 Three Birmingham City University School of Jewellery students have been shortlisted as finalists in an annual design competition run by Weston Beamor.
Entrant of the Live Project design competition, which is open to all BCU students in their second year of a Higher National Diploma in Jewellery Manufacturing, had to design a wedding and engagement ring set in Fairtrade gold for the commercial market.
It was stipulated that applicants were to use only commercially available stone sizes/shapes, and submissions had to include an advert, displaying coherent branding.
The three finalists, Hayley Jones, Lorna McNaught and Kai-Blu Triass, will each receive prize money, of various values, and work experience at the Weston Beamor factory.
The judges felt that Kai-Blu Triass's geometric 'Dyad' wedding and engagement ring set, which combines white and rose gold, was commercial and unique whilst his CAD model showed understanding of thickness and tolerances.
The judge praised Hayley Jones for her 'Odyssey' ring, with its unusual bubble-like textures, stating that the design concept could be easily developed into a whole suite of distinctive bridal jewellery.
Lorna McNaught's 'Entwined' design, which combines white and rose gold with a brilliant cut emerald, was deemed to be very commercially aware, delicate and straightforward to manufacture. The judges were impressed with the cohesion between the design, brand name and advert.
The winner of the competition will be announced at 2pm on Tuesday February 6 on Weston Beamor's stand at Jewellery & Watch Birmingham.
While the winning student will receive a cheque for £500, the second place designer will receive £250 and third will be awarded £100.
Weston Beamor's Ed Hole comments: "We were particularly impressed by the very high standard of this year's designs. The entries were not only fresh and innovative but were also technically accomplished. All three sets are going to look absolutely terrific once they are made and we hope that visitors to Jewellery & Watch will come to our stand to see what the next generation of designers, with a little help from our bespoke manufacturing team, can achieve."
"This is a great exercise for our students," adds course tutor at BCU, Katy Tromans. "Having the chance to visit Weston Beamor, to see and understand their facilities and then to create a design to a live commercial brief is invaluable experience for them, as is the chance to win a week of work experience within the company."
News Source: professionaljeweller.com