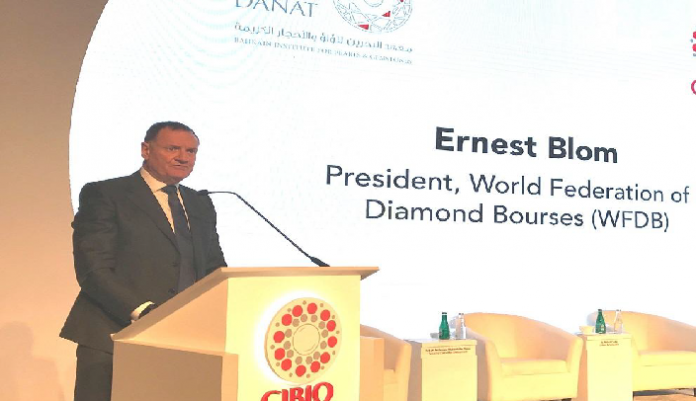 World Federation of Diamond Bourses (WFDB) President Ernie Blom has praised the close working relationship between the WFDB and CIBJO, the World Jewellery Confederation, at the opening of the 2019 CIBJO Congress which started today in Bahrain. The unity allows the diamond and jewelry industry to provide a unified response in the face of global challenges, he told the international gathering.
"The WFDB's Exchange Presidents and Commission Presidents and members voluntarily devote an enormous amount of time to the organisation's work because they know the importance of working together as a global body in order to deal with the challenges we face. I must mention the close cooperation between the WFDB and CIBJO that has proven to be invaluable, especially in recent years regarding our united stand on the various challenges facing the industry.
"In light of the questionable advertising of the lab-grown diamond manufacturers in recent times, I believe that the necessity for us to work together has never been greater so that we can counter these claims and prevent consumer confusion regarding synthetics and diamonds.
"As with the WFDB, CIBJO has been promoting Corporate Social Responsibility and transparent supply chains. At the WFDB, we have also strongly embraced KYC, or Know Your Customer. It is absolutely vital to the future of the trade. The world of business has changed tremendously. Compliance of a clear audit trail of one's buying/selling processes is now an integral part of a diamantaire's business. You could say compliance is the "Fifth C" of the business. It is for these reasons that the WFDB has adopted the KYC principle.
"Traceability regarding diamonds is also an essential of today's business, and we encourage our members to be completely transparent regarding their diamond supply chain," he added.
ABOUT THE WFDB:
The World Federation of Diamond Bourses has 30 affiliated bourse members and exists to protect the interests of affiliated bourses and their individual members, and also to further the amicable settlement or arbitration of disputes between individual members of the affiliated bourses and/or between affiliated bourses. The WFDB participates in the promotion of world trade and encourages the establishment of new diamond bourses.
Members of affiliated bourses pledge to uphold the traditions, principles of mutual trust, consideration and friendship which prevail among the members of the bourses world-wide. They also pledge themselves to abide by and hand down these principles and to ensure that they will forever serve as a basis in business relations between members of affiliated bourses.