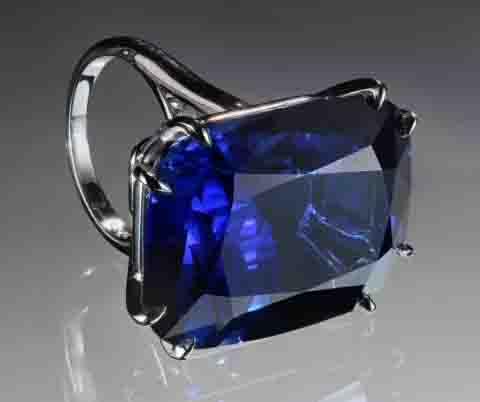 David Friend Hall opens to the public on Oct. 23
David Friend Hall, a new gallery featuring minerals and gemstones at the Yale Peabody Museum of Natural History in New Haven, Conn., opened to the public on Oct. 23.
The gallery's opening featured the showcase of several gems on loan from private collections, including the Yellow Rose, a 77.12 ct. fancy yellow diamond, and the Blue Dragon, a 75.41 ct. Burmese sapphire (pictured), both appearing courtesy of Christie's.
"We are thrilled to have the opportunity to display these remarkable gemstones," said David Skelly, director of the Peabody Museum, in a statement. "They add to the fantastic diversity of objects presented in a space that compels us all to think about what they are and how they are formed."
Other pieces on display include the Mandalay Princess, a necklace containing 35 Burmese rubies totaling 42.55 cts.; a 45.52 ct. Burmese sapphire set in a Bulgari pendant; and the Cullinan Blue Diamond Necklace, which features nine rare blue diamonds, the largest at 2.6 cts., cut from the Cullinan Blue Diamond.
The 2,300-square-foot gallery was made possible with a $4 million gift from David Friend, a Yale alumnus.
More information is available here.
(Photo by Harold Moritz, courtesy of Yale Peabody Museum)
News Source : JCKOnline.com