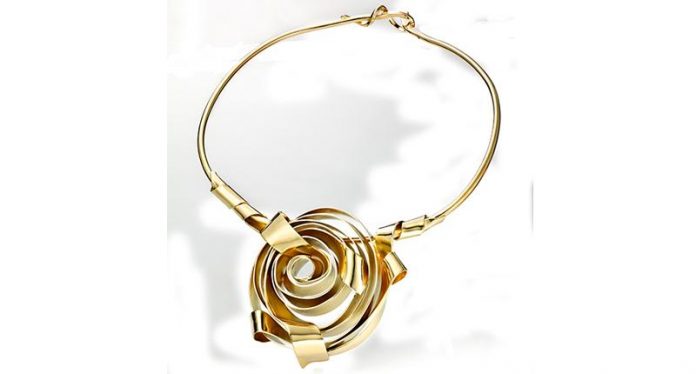 New York–Conversations about what millennials are buying usually revolve around a few common themes–they're looking for experiences, or they're looking for products that are unique and personal to them.
Enter art jewelry, a category that has different meaning to different people but, regardless of definition, offers uniqueness and personality in spades.
While there are a few different ways to describe or define art jewelry, generally the term refers to jewelry that represents an artist or designer's idea of what jewelry should be and how it should be worn. Art jewelry is, by its very definition, expressive.
"I have always expressed myself through adornment, and I see jewelry as an extension of one's self," designer Laura Wood told National Jeweler. "My work is a constant exploration in form and pattern making and how these elements can complement the human form."
This doesn't differ much from what are called contemporary fine jewelry pieces, and there is some overlap, though Patricia Faber of the Aaron Faber Gallery in New York said that art jewelry generally can be identified by their looks–the structure and form brought to them.
For Faber, the term also means that the pieces are designed and made by one person at a bench, and that they often are one-of-a-kind with a unique perspective.
"That's where art jewelry has an appeal to the younger generation," she said. "It has a point of view."
The Journey
Art jewelry has been a movement for more than six decades, said private art (and art jewelry) dealer Donna Schneier, going through an explosive period in the 1960s and '70s before quieting down in the '80s and '90s.
"Customers are hungry for alternatives to the sameness they see in cookie-cutter stores all over the country. Do not underestimate the willingness of today's customers to embrace alternative jewelry." –Marthe La Van, Mora Contemporary Jewelry Design
Schneier said that while the category started out being defined by the materials used–generally, alternative–it since has changed as the designers have begun to embrace all materials, including fine metals and gems.
And while the phrase "art jewelry" might bring to mind really elaborate, statement-making pieces, there also are art jewelry designers who seemingly toe the line and combine it with a more modern fine jewelry production aesthetic, creating pieces that tend to be more saleable to a larger audience.
It's this section of the category, it seems, that provides upside for art jewelry–the pieces that appeal to a larger consumer base.
Designer Ruta Reifen got her start with art jewelry. While she still has a foot in that world, she has since put her "creative process through a filter," as she puts it, to reduce her designs to a more classic format and make them saleable to a wider audience.
She said she wanted her jewelry to be "desirable to more rather than understood by some."
What she found in the art jewelry world is that it's a very insular community, with designers represented by art galleries and serious collectors only buying the jewelry.
The future of the category, she believes, lies in its ability to start speaking to a larger audience, finding a way to blend with the artistic part of the process with fine jewelry's commitment to function and wearability.
And while there are many designers in art jewelry using fine metals and materials, art jewelry also is known for uses of alternative materials, which speaks to the younger consumer group not only for its unique designs but also because, often, that means a great price point.
This has led the millennial generation to find their way into the category more and more, especially for alternative bridal.
Realistic for Retail?
As for whether there's a place for this kind of jewelry in retail jewelry stores instead of just art galleries, Marthe Le Van of Mora Contemporary Jewelry Design in Asheville, North Carolina said the answer is a resounding yes.
"Customers are hungry for alternatives to the sameness they see in cookie-cutter stores all over the country. Do not underestimate the willingness of today's customers to embrace alternative jewelry."
Laura Wood's earrings feature a lace-shaped stud at top with a teardrop dangle and moonstone, all in sterling silver and brass ($286).
The five-stone Jet Row bracelet from Joanna Gollberg, featuring kyanite, blue topaz, amazonite, raw ammonite and lapis lazuli in sterling silver ($420)
Leah Smithson's "Triple Koyu" porcelain poppy and cherry blossom flower earrings in gold ($465)
This necklace from Oblik Atelier is made of hand-fabricated brass with gold plating ($900)
Caitie Sellers' large Torque necklace made with Argentium silver and oxidized copper mesh ($1,900)
Baiyang Qiu's square earrings are made with diamonds and 18-karat yellow gold ($2,350)
Elise Bergeron's leaf pearl statement brooch is made of fused 22-karat yellow gold and fine pure silver ($4,850)
This piece from Lucie Heskett-Brem features 18-karat yellow gold chains and a caged 14 mm South Sea pearl at center that fall into a draped bib style when worn as a necklace (hanging on a sterling silver half circle collar at left) ($5,700). With her most recent work expanding the chain into three dimensions, this piece also can be featured as a pyramidal sculpture when hung a certain way from a four-sided base.
Claudio Pino's 18-karat gold ring with black spinel and carnelian ($14,400)
Indeed, for traditional jewelry retailers the category offers some very interesting opportunities.
Faber said that carrying art jewelry can help set a jeweler apart from their local competition, and also can open them up to attracting new customers who want pieces like these but don't shop at the store.
"It's a great window into new kinds of jewelry and new customers who are already in the community and going to craft or art fairs and seeking it out," she said.
For retailers looking to explore art jewelry and the designers and artists within it, there are a number of shows, fairs and galleries to visit, such as Schmuck in Germany and Galerie Marzee in the Netherlands.
There's also the Bijoux! event in Palm Beach, which has had a huge impact on changing the face of jewelry in that community as more people discovered these designs, said Schneier, the private art and jewelry dealer.
"I think that if we can invade the concept of jewelry in Palm Beach," she said, "we can do it anywhere."
"Venture outside the standard industry shows, get involved in the art jewelry community, be brave and trust your instincts." — Marthe Le Van, Mora Contemporary Jewelry Design
There are a few things for retailers to keep in mind though, experts said.
For stores new to the idea, it might be best to start with just a few designers, Faber said, finding some styles that aren't yet available in the community to offer a fresh perspective. Make sure the styles are compatible with each other and ignite passion with the sales team.
Le Van, meanwhile, said that the key to success is curating a diverse collection of jewelry showing a range of style, scale and price point.
From a design perspective, Wood said there is definitely a space for her kind of work in a modern retail jewelry store but added, "The caveat is in regards to display. I have work in places that blend the sales floor with fine and alternative media–it is of the utmost importance that the art jewelry be given the same attention to detail and significance as the fine jewelry items."
Another important aspect of selling art jewelry–as with all jewelry–is making it accessible for customers to touch and feel.
When it comes to selling art jewelry, the process starts with having a conversation between artist and gallery or store. When the work arrives, it should come with an artist statement that includes key details for selling the piece, Wood said.
Stone carat weight, metal karat weight and metal type are important descriptors for selling fine jewelry, and the content, materials and artist statement are the equivalent for art jewelry.
"It is important to offer the opportunity to try on the work or even just handle it so that it becomes more approachable," she said, adding that there has to be a genuine love for art jewelry to make it worth it for both designer and retailer.
"It should not be on a sales floor to make the surroundings more interesting."
Le Van said that she does find that art jewelry requires a "healthy dose" of consumer education, but added that it's also a great way to engage customer and build relationships. And, in the end, it's worth it.
"There is amazing jewelry being created today that will help your store stand out, grow your audience and increase your bottom line. All you have to do it look for it," she said. "Venture outside the standard industry shows, get involved in the art jewelry community, be brave and trust your instincts."
News Source : nationaljeweler.com