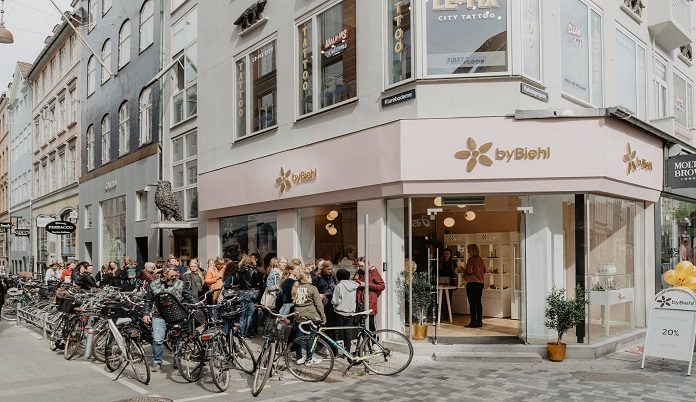 Danish jewellery brand byBiehl opened the doors to its very first concept store last month, and the customer response has been better that the company anticipated.
After nine years on the Danish market, the brand, which has been taking the UK by storm since landing into stores last September, decided to open a debut flagship store in the heart of Copenhagen.
For Charlotte Biehl, who is the founder of byBiehl jewellery, this retail venture is all about learning getting close to the customers, enhancing the brand experience, and create more exposure in a competative market.
She explains: "byBiehl has really evolved as a brand the last couple of years. Today we have more than 300 retail customers in Denmark, Sweden, Norway, UK and Ireland. We have a great positioning with shop-in-shops in many of our retail stores. But we wish to give our customers an even better understanding of the byBiehl universe, which is now possible with the opening of our new flagship store in the heart of Copenhagen."
With a strong goal in mind, the brand is happy to report the first month in business has been a success – with customers engaging and interacting with byBiehl at a level that is only possible in a concept store.
"Since the opening of the store, we have met a large group of our customers. With a very successful opening of the store on the 1st of May with a long line in front of the store with people just waiting to see the new store. It feels great to introduce our customers to the byBiehl universe, and to give them that special experience, where they really see what the byBiehl brand is all about. We really feel that this is helping us raise the profile of the brand," Biehl tells Professional Jeweller.
She adds: "I must say that we've been quite overwhelmed by the great interests from our customers since the opening of the store, with two great events attracting so many people, that it created long lines in front of the store."
byBiehl is known for putting on effective customer events that draws people into stores. Retailers in the UK have already benefited from this, and now byBiehl can explore new and innovative ways of increasing sales at a retail level through the running of its own store.
The founder tells Professional Jeweller that they are convinced that they will open flagships in other markets, including the UK, when the time is right.