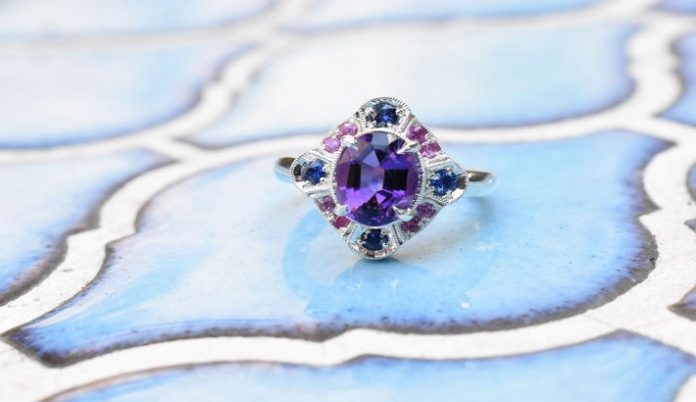 This month, Cecile Raley Designs commemorated its tenth anniversary. Celebrating in style with an Art-Deco themed cocktail party, the brand's customers mingled with suppliers, getting firsthand impressions of sourcing from mine to market. An ethics professor turned jewelry designer, AGTA member Yvonne Cecile Raley collaborates with retailers, and sells online through her top-ranking Etsy shop. In honor of her 10th year, the company has created a 10th Anniversary capsule collection, inspired by the designer's bestselling rings.
Dr. Yvonne Raley says, "This 10th anniversary was a huge milestone for me, and I was thrilled to be able to celebrate it in the style of my creations: New York art deco style in technicolor. My success is due to the local artists that have supported me by lending their fantastic expertise to working with gemstones rarely seen in finished jewelry. It is the collaborative spirit that made Cecile Raley Designs what it is, and each of my pieces encapsulates the story that has brought me half way across the globe to the city of my dreams."
Hiring local, Cecile Raley Designs works with setters, engravers, and appraisers in New York City. This ensures exceptional craftsmanship and prompt turnaround times for clients. Her capsule collection features a selection of colorful cocktail rings blending together a unique combination of fine colored gems. The Josephine Ring, for example, is available with a vibrant, regal African amethyst center stone, highlighted by a shield of alternating pink and blue sapphires, set in sterling silver. For an equally compelling palette, a 14K rose gold Josephine sports a Madagascan aquamarine center, surrounded by zircons and stunning Russian demantoid garnets.
Referring to the collection's Clarisse Ring, Raley says, "This small collection includes rarely known gems from these far away regions, such as Kornerupine from Tanzania, as well as the gems that have recently gained highest standing in our industry such as Burmese and Tanzanian Mahenge spinel. And just like my designs and gems, my clients are from all over the world, from China to Singapore, from Israel to Australia. They are attracted as much to the beauty and novelty of these gems as to the stories they tell."
With a masterful eye for color and the ability to juxtapose unexpected combinations, Cecile Raley Designs has garnered the highest respect within the trade. Jaimeen Shah, Owner of Prima Gems and AGTA Board Member, says, "Yvonne has achieved what most people dream of – an incredible supply chain comprised of talented, professional, and most of all amazing people. This is what makes her stand out from the crowd. Gemstones are rare, and combining her eye for picking them, with good people to work with, makes her a great one-stop shop for all those interested in collecting the rarest of the rare."
Inspired by New York City, its history as a city of immigrants, and the opulent, yet elegant, style of the 1920s, Cecile Raley Designs brings to life a time only captured in black and white movies to breathtaking color—celebrating rare, earth mined gems from Madagascar, Tanzania, and Colombia, connecting small artisanal mining to the Metropolis that is both home to the designer, and much of the trade.
To learn more about Cecile Raley Designs visit cecileraleydesigns.com, call 201-232-6646, or email cecileraleydesigns@gmail.com. For inquiries regarding this press release, contact Olga Gonzalez at Pietra Communications at 212-913-9761, or info@pietrapr.com.
About Cecile Raley Designs
Cecile Raley Designs is dedicated to all things sustainable and fair. Castings are made from recycled materials, and gemstones are untreated and locally sourced, whenever possible. Promoting local artisanship and fair wages, Cecile Raley Designs strives to understand how gems and materials are sourced, and provides full disclosure about production to its customers.