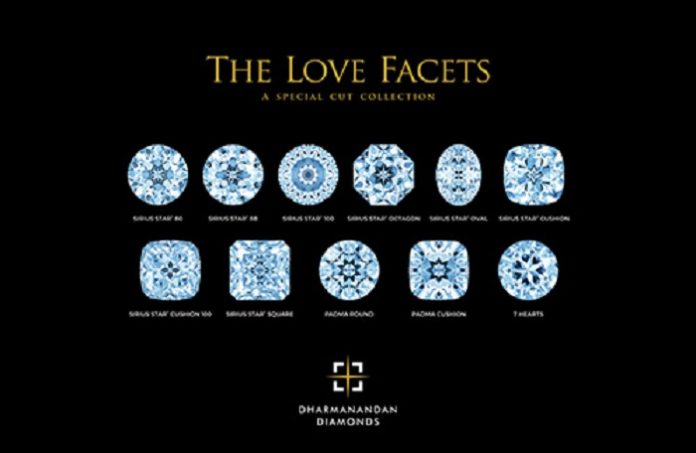 Dharmanandan Diamonds (DDPL) will be launching the latest of its Special Cuts – a range of new Sirius Star diamonds, at the September Hong Kong Jewellery & Gem Fair. The entire range of the company's Special Cuts Collection of 11 cuts will be showcased as 'The Love Facets' at the show, DDPL said in a release today.
As reported earlier, DDPL has partnered with Mike Botha, Canadian Master Diamond Cutter for manufacturing and trading of Sirius Star Diamonds. The Sirius Star cut diamonds are described as "the world's brightest diamonds".
Two special cuts of Sirius Star, the Sirius Star 80 and the Sirius Star 100 were unveiled at IIJS 2018 in Mumbai this August. The former has 80 inclined facets, and the latter 100, with the former having a signature 8-pointed star pattern in the pavilion and the latter a ten pointed star. Both have 100% light return in ray trace analysis, DDPL had revealed.
Prior to that, the company had unveiled other special cuts including the Padma Round and the Padma Cushion, which are inspired by the Lotus flower, and the 7 Hearts with 63 facets.
Speaking about the HK Show, Sandip Patel, Director DDPL said, "We are thrilled to launch our newest collection of special cuts. It all begin before a year and a half when we sensed the need of differentiated products after consulting with our prestigious customers. And here we are with the brightest diamonds in the world. The HK show is the time and perfect opportunity to showcase this collection.
Piyush Patel, Director DDPL stated, "With the wide array of special diamonds along with our distinguished services, DDPL believes to allure customer attention for experiencing the brilliance. We are starting the distribution among our clientele with exclusivity after the September Show."
News Source: gjepc.org