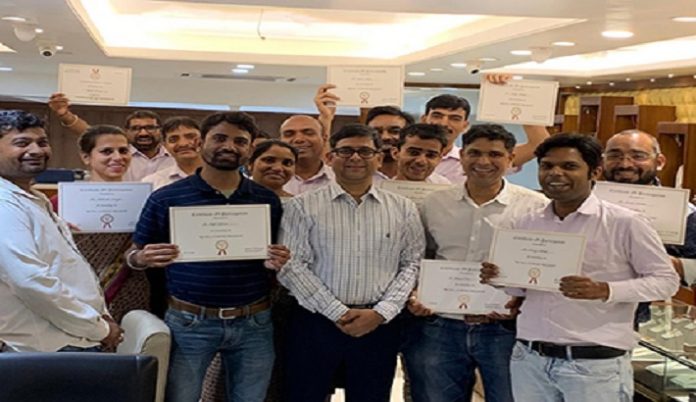 The training session was conducted for the sales team of Tulsyan Jewellers
The International Gemological Institute (IGI) conducted a retail training program for the sales team of Tulsyan Jewellers. The retail training program designed by IGI is an initiative to help jewelers perfect the art of selling fine jewelry by educating the consumers.
The training program focused on educating the end consumers about the various aspects that add beauty and value to their jewelry. From the journey of a diamond from the mines to the market followed by a comprehensive understanding of the 4C's – cut, color, clarity and carat weight; the participants got an in-depth understanding of natural diamonds. Instilling Consumer confidence being an important part of the retail process, the team was given a format training at interpreting an IGI report which is an impartial analysis of the many aspects in a diamond as well as jewelry. This is considered imperative to a successful sales process.
Having complete product knowledge is an integral part of the retail process and the Retail Support Program is IGI's initiative to train the jeweler retailer's team in the art of selling jewelry in a unique yet all- encompassing manner. IGI conducts corporate training programs based on their requirement of manufacturers and retailers from the industry. With an exceptional range of coursework that encompasses everything from rough diamond grading to gemstones, modern treatments and computer-assisted jewelry design, IGI is indeed the world's most trusted name in diamond certification and education. For more details about the Retail Support Program, visit www.igi.org or call 022 4973064/5 or 1800 102 8610, toll free.
News Source: diamondworld