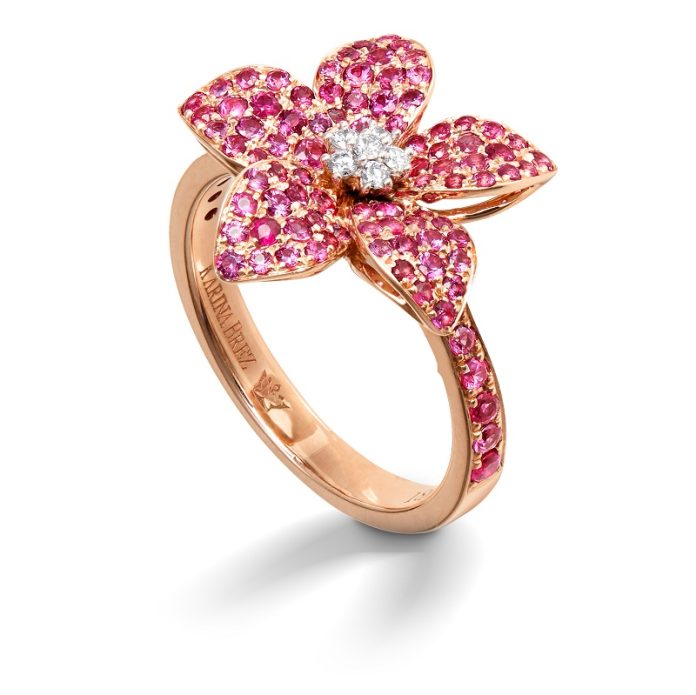 A garden of jewels, the new Karina Brez capsule collection complements the style of her Palm Beach flagship.
February 23, 2022. New York, NY. A turning point in human civilization, the movement from the nomadic to planting seeds forever changed history. Over time, garden design has become a pursuit of pleasure, with horticulturalists and artists alike being drawn to the aesthetic of floral inspiration. Through her imaginative interpretation, Karina Brez utilizes sapphires and diamonds to create florals with an ombré, offering elegant pieces with timeless appeal.
Regarding the inspiration behind the Garden Collection, Brez says, "Since I was young, I have loved and been fascinated by gardens. After traveling to see many of the world's most spectacular gardens, from the enchanting Butchart gardens in British Columbia to visiting the opulent gardens of Versailles, I feel a connection to them, which ultimately have a universal draw to each and every one of us.  Flowers are beautiful, soft and feminine, and offer a shared experience that affects multiple senses.  While in high school, I designed our high school play, The Secret Garden, and since have thought of how amazing it would be to have a jewelry store in a garden-like setting. In 2013, I hosted my first pop-up store at the World Equestrian Center, and in late 2021 my flagship Palm Beach, FL location opened with a garden jewel box theme. At the Equestrian Center, I utilized faux ivy walls and turf. Today, my retail location is just as green, with the pantone color Emerald Green being the canvas on which to embellish a garden of jewels."
With six Acadian pieces, the Garden Collection is comprised of two floral designs, Zahara and Leilani, available in multiple styles. Both names directly refer to the floral inspiration behind the collection. Zahara means "radiance", "shining" as well as "flower," while Leilani means "Heavenly Flower." The Garden Collection uses both pink and blue sapphires for an ombré, with earring, necklace and ring options available.
For those who want to shop the Garden collection in person, the Palm Beach flagship Karina Brez Jewelry store is open Wednesday through Thursday, from 11:00 AM-4:00 PM, Friday and Saturday from 11:00 AM-7:00 PM, and by appointment Sunday, Monday and Tuesday.
In addition, Karina Brez is hosting a pop-up boutique in the VIP area of the Palm Beach International Equestrian Center in Wellington, FL. Karina Brez Jewelry is celebrating its 10th year as an official sponsor and vendor of the Winter Equestrian Festival, one of the largest and most prestigious international horse shows.
For sales inquiries or retail partnership inquiries, contact Shoshana Leon at 561-400-4085 or email wholesale@karinabrez.com or info@karinabrez.com.
About Karina Brez
A first generation Ukranian-American, Karina Brez earned the title of Miss Florida USA in 2012, and was inspired to design a jewelry collection after fellow contestants were impressed by the design she created for her own pageant dress. A horse enthusiast with a passion for gemstones, Brez completed the GIA Graduate Gemologist program, is an appraiser, and advocates for non-profits introducing children to the healing power of horses. Her signature fine jewelry collections are Huggable Hooves® and Horse LUV®. In 2020, Karina Brez was voted one of the top three Equestrian jewelers by Equestrian Living Magazine. She opened a retail location in Palm