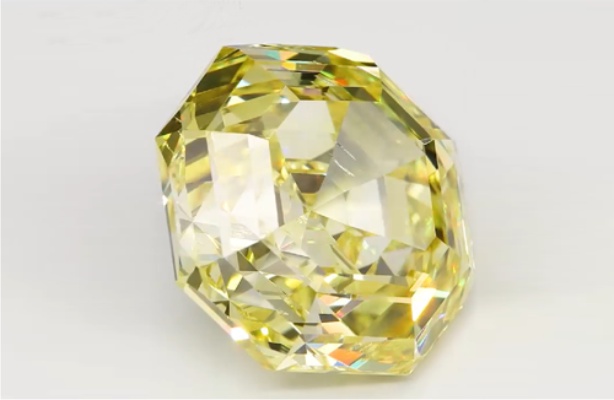 New Diamond Technology (NDT) announced that it is showcasing a 10.06 carat, SI Clarity HPHT, octagonal step cut Fancy Intense Yellow diamond at the September Hong Kong Jewellery & Gem Fair which opens tomorrow. NDT is a Russian manufacturer of large, high-quality single crystal synthetic diamonds.
The Company said that the stone is the only officially known Fancy Intense Yellow lab-grown diamond of over 10 carats ever manufactured. It has been certified by International Gemological Institute (IGI) in Antwerp.
IGI's Worldwide co-CEO Marc Brauner said, "This NDT 10.06 carat stone is unique in all aspects, and that the technology behind the processes synthesizing such stones are rapidly and significantly advancing. The stone's intense yellow color and breath-taking brilliance will ensure it a prominent place among the pioneers of man-made diamond creation."
NDT President Tamazi Khikhinashvili said that the company has now displayed a number of large lab-grown diamonds in fancy colours and cuts at major shows across the world beginning with when it unveiled the world's largest lab-grown emerald-cut blue diamond, 5.03cts, VS1 HPHT type-IIb stone at Baselworld in 2016 and the world's largest HPHT-grown colorless diamond, of 10.02 cts with a square emerald cut at the HK Show in May 2015.
Pic caption: The 10ct fancy intense yellow synthetic diamond from NDT
Pic courtesy: IGI/ NDT
News Source : gjepc.org