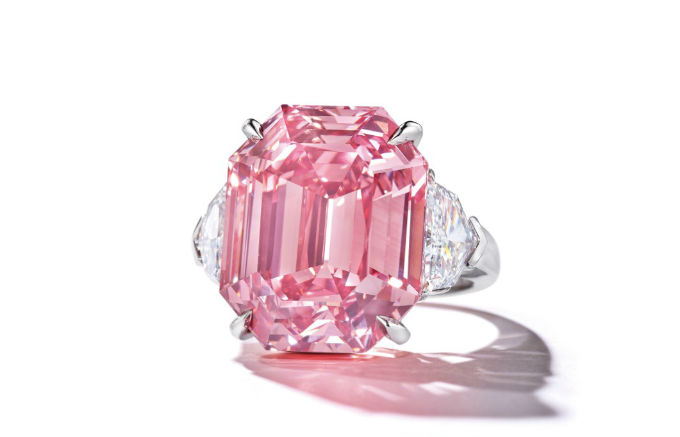 A scintillating 18.96-carat fancy vivid pink diamond sold for over US$50 million at Christie's Magnificent Jewels auction in Geneva and was renamed The Winston Pink Legacy by its new owners, Harry Winston.
Rahul Kadakia, International Head of Jewellery at Christie's, commented, "The saturation and intensity of this stone is as good as it gets in a coloured diamond. To find a diamond of this size with this colour is pretty much unreal. You may see this colour in a pink diamond of less than one carat. But this is almost 19 carats and it's as pink as can be. It's unbelievable."
Most pink diamonds exhibit a colour modifier like purple, orange, brown or grey but the Pink Legacy shows no trace of a secondary colour, according to the auction house. This even colour distribution, combined with a balanced saturation, tone and straight pink hue, qualify the 18.96-carat diamond for the coveted "fancy vivid" colour grading from the Gemological Institute of America. "Only one in 100,000 diamonds possess a colour deep enough to qualify as fancy vivid and the Winston Legacy set a new record price per carat for a pink diamond," it added.
In the saleroom, fancy vivid pink diamonds of over 10 carats are virtually unheard of – in over 250 years of auction history at Christie's, only four such stones have ever appeared for sale.
Driven by collector demand and an increasingly limited supply, prices for top-quality large pink diamonds has increased exponentially over the years. This booming market reached an historic level in Hong Kong in November 2017 when Christie's sold "The Pink Promise," an oval-shaped fancy vivid pink diamond of just under 15 carats, for US$32,480,500 — a whopping US$2,175,519 per carat. The figure remains the world auction record price per carat for any pink diamond.
This incomparable pink diamond has descended from the Oppenheimer Family and its sale was a major moment in auction history.
News Source: jewellerynet.com