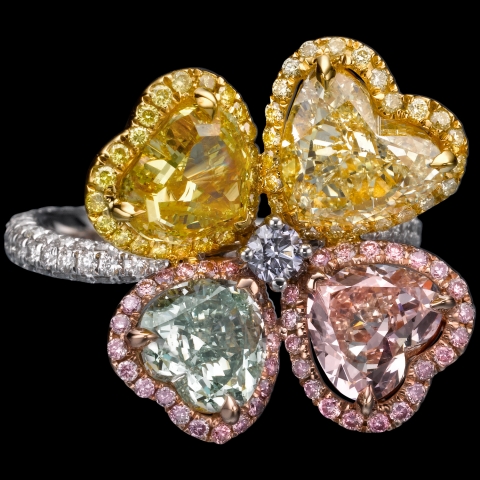 Loose or set to perfection in precious metals, fancy colour diamonds possess a mesmerising sparkle that draws the eyes in.
"There is simply no other material on the planet that produces the brilliance, dispersion and sparkle of diamonds. Nothing can replicate the brilliance and sparkle like a blue diamond does for example. It's the physical properties of the diamond itself that make it so much more superior to other stones," shares Simon Zion, Executive Director of Hong Kong-based Dehres.
Dehres is impressing trade show visitors with its fancy colour diamond collection – think gorgeous pinks, incredible blues and the rarest fancy hues – and one-of-a-kind creations set with beautifully cut flawless white diamonds.
Another name that has become synonymous with fancy colour diamonds is Scarselli. The New York-based diamantaire has more than eight decades of experience in the industry and is known for yellow diamonds of strong colour in the 10-carat to 80-carat range, and for its collection of rare blues, greens, pinks, oranges and reds.
From Switzerland comes Swissdiam Geneve SA, a diamond wholesaler that specialises in important large diamonds. Its diamonds are purchased in the rough and cut by Swissdiam's most knowledgeable staff in Antwerp. The company counts greens, yellows, blues and pinks among its show highlights.
Also carving out a niche in the fancy colour diamond business is New York-based LJ West Diamonds Inc. Saying that it has the rarest collection of fancy colour diamonds – loose or mounted, the diamond expert notes that it has established exclusive relationships with leading sources of exceptional gems, including the Argyle Diamond Mine in Australia.
News Source: jewellerynet.com/a>