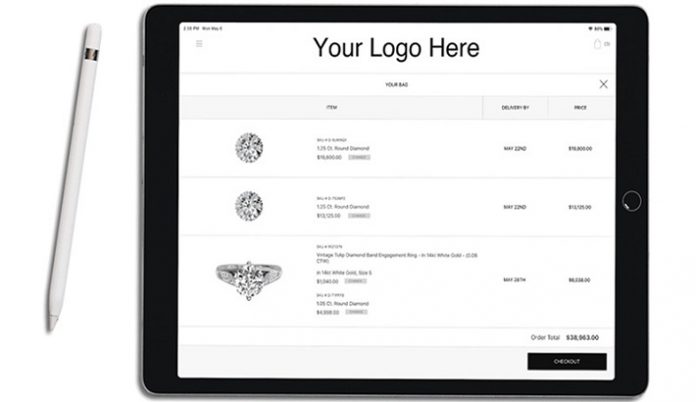 Ritani, a vertically integrated, technology-minded jewelry company launched Virtual Shelf at JCK Las Vegas. Virtual Shelf is a white-label application and sales vehicle that "re-imagines how jewelers sell, and customers shop for engagement rings, diamonds, and jewelry."
Like its various competitors, Ritani sought to overcome one of the brick-and-mortar retail jewelers' most urgent dilemmas, i.e. these retailers' limited physical inventory as well as the usually high costs of managing transactions and the lack of access or familiarity with technological innovations. With Virtual Shelf however, these jewelers can gain direct access to – a digital – inventory of over 250,000 diamonds and jewelry items, along with full-service sales processing.
According to a Ritani, Virtual Shelf is designed to complement each retailer's existing inventory by making available a digital inventory of hundreds of thousands of diamonds and jewelry items available for immediate purchasing. "Should the customer choose to purchase a diamond or jewelry item from the Virtual Shelf, the retailer sets their margin and Ritani handles the entire back-end transaction for the jeweler, including fulfillment, credit card processing, fraud risk, and returns. In turn, the retailer immediately sees the transaction on their books. The customer receives the item quickly and safely via insured shipping."
"The development of Virtual Shelf builds on Ritani's steadfast dedication to helping independent jewelers implement new technologies to accelerate business," said Josh Marion, general manager of Virtual Shelf by Ritani. "This platform stems from years of working closely with independent retailers and seeking to solve for the critical issues affecting their businesses; we believe it will have a visible and transformative impact."
"While the industry has often been slow to implement new technology, the introduction of Ritani's Virtual Shelf platform is a game-changer for independent jewelers like Padis and for our customers." said Alexis Padis, President of Padis Jewelry, one of five stores in North America currently testing the system in its stores. "This app dramatically improves the sales process for our team, removes the overhead and headaches of managing the transaction, and gives customers access to more diamonds and jewelry from a centralized, nationwide repository. Plus, we are empowered to better manage our owned inventory and offer it to other jewelers on the platform so we can collectively better serve shoppers around the country."
Following Virtual Shelf's debut at JCK Las Vegas, more information is available at http://www.virtualshelf.io.
News Source: idexonline