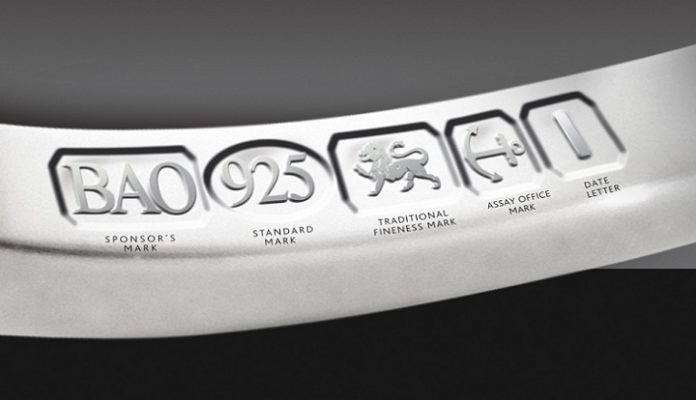 Figures compiled by the Birmingham Assay Office show hallmarking climbed by 6.7% in Q1 2018 due to an uplift in silver articles.
Silver was the only metal to report a rise, up 16.4% compared to last year, while gold, platinum and palladium all cited a dip.
Palladium suffered the steepest drop of 23.9%, followed by platinum at 7.1% and gold at 1.5%.
In total 2,050,708 items were hallmarked in the first quarter of the year.
The full results can be seen below…
UK Hallmarking figures for Q1 2017
Gold
24ct (999) – up 1938.9% (367 items)
24ct (990) – down 89.2% (8 items)
22ct (916) – down 4.0% (100,717 items)
18ct (750) – down 2.4% (169,369 items)
14ct (585) – up 51.3% (31,155 items)
9ct (375) – down 2.7% (571,087 items)
Total gold items – down 1.5% (872,703 items)
Silver
Fine silver (999) – up 22.8% (7,089 items)
Britannia silver (958) – up 29.4% (3,565 items)
Sterling silver (925) – up 16.3% (1,081,539 items)
800 parts silver – up 4725.0% (193 items)
Total silver items – up 16.4% (1,092,386 items)
Platinum
999 parts – down 43.3% (17 items)
950 parts – down 7.2% (66,092 items)
900 parts – up 126.8% (93 items)
850 parts – Neutral (9 items)
Total platinum items – down 7.1% (66,211 items)
Palladium
999 parts – Neutral (1 item)
950 parts – down 25.1% (16,216 items)
500 parts – down 17.2% (3,191 items)
Total palladium items – down 23.9% (19,408 items)
Total items hallmarked in Q1 2017: 2,050,708 – up 6.7%
---
UK Hallmarking figures for March 2017 vs March 2018
Gold
24ct (999) – up 3600% (74 items)
24ct (990) – down 97.3% (2 items)
22ct (916) – down 11.3% (37,768 items)
18ct (750) – down 14.6% (57,053 items)
14ct (585) – up 40.7% (12,508 items)
9ct (375) – down 10.4% (212,744 items)
Total gold items – down 10% (320,149 items)
Silver
Fine silver (999) – up 64.8% (2,110 items)
Britannia silver (958) – down 24.9% (1,018 items)
Sterling silver (925) – down 6.2% (318,779 items)
800 parts silver – Neutral (3 items)
Total silver items – down 6.1% (321,910 items)
Platinum
999 parts – down 92.6% (2 items)
950 parts – down 11.6% (22,784items)
900 parts – up 170.8%% (65 items)
850 parts – Neutral (6 items)
Total platinum items – down 11.5% (22,857 items)
Palladium
999 parts – down 100% (0 items)
950 parts – down 35.3% (4,907 items)
500 parts – down 43.4% (568 items)
Total palladium items – down 36.3% (5,475 items)
Total items hallmarked in March 2017: 670,391 – down 8.5%