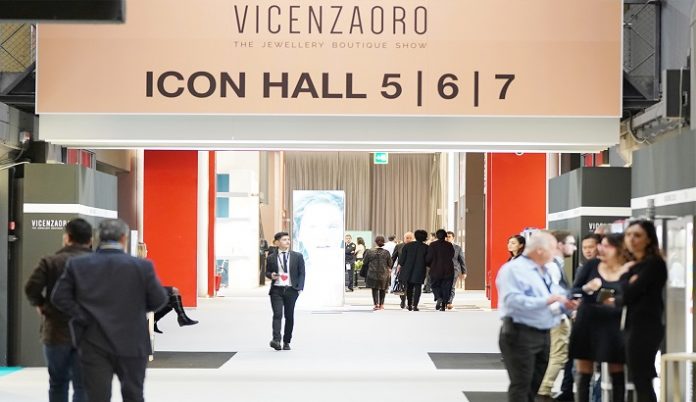 The January 2020 edition of VicenzaOro had a grand opening on January 17, 2020 with a number of dignitaries including GJEPC Chairman Pramod Kumar Agrawal participating in the inaugural ribbon cutting ceremony, followed by two panel discussions related to the future of the industry. Agrawal was also one of the panellists who discussed the Future of Diamonds.
Presiding at the inaugural ceremony were Lorenzo Cagnoni – President of Italian Exhibition Group, Francesco Rucco – Mayor of Vicenza, Cristina Franco – Vice President of the Province of Vicenza, Elena Donazzan – Veneto Region's Councillor for Education, Training, Work and Equal Opportunities, Ivana Ciabatti – President of Federorafi, Carlo Maria Ferro – President of Agenzia ICE, Achille Variati – Undersecretary of State for the Ministry of the Interior.
Later, the show hosted two Panel Discussions under its Visio.Next banner related to the Future for Jewellery and the Future for Diamonds with both panels underlining the importance of focusing on the values of transparency, inclusion and individuality. Such new approaches and stories were required to communicate with an ever-younger and well-informed public that gives importance to these attributes, it was felt.
Some panellists opined that while jewellery was traditionally linked to a special moment, it has increasingly become a more personal item, breaking consistently further away from the relational dimension. Stephen Lussier, Executive Vice-President Consumer and Brands at De Beers Group, "The concept of luxury, which once, besides quality, evoked exclusiveness and social status… now continues to speak of quality but the artisan kind, one that must inspire inclusiveness and a social purpose." Eleonora Rizzuto, Sustainable Development Manager at Bulgari & LVMH Italia, underlined that it was not possible to ignore the coexistence of economic, social and environmental aspects of a product or the industry.
Gaetano Cavalieri, President of CIBJO, introduced the panel on diamonds, which was moderated by Paola De Luca, Founder and Creative Director of Trendvision Jewellery + Forecasting. Cavalieri stressed the significant contribution that the diamond industry makes in the countries where it operates in terms of human rights and quality of life, especially for women and children. Pramod Kumar Agrawal, Chairman GJEPC said that the industry must make efforts to expand its market share which is being increasingly undermined by other luxury goods. This point met with agreement by both Thierry Silber, CEO and Founder of Madestones, Europe's main synthetic diamond supplier, and Stephen Lussier, Executive Vice President Consumer & Brands at De Beers Group. The invitation, extended to the rest of the industry, was to go beyond the borders of sectoral debate and involve an expanding public by telling true and coherent stories, offering lifestyles rather than mere accessories. As designer Tomasz Donocik, summed it up – the diamond of the future must incarnate four key words: "experience, design, uniqueness and individuality."
Pic caption: GJEPC Chairman Pramod Kumar Agrawal addresses the panel on the Future of Diamonds at the VicenzaOro January 2020 show
News Source: gjepc