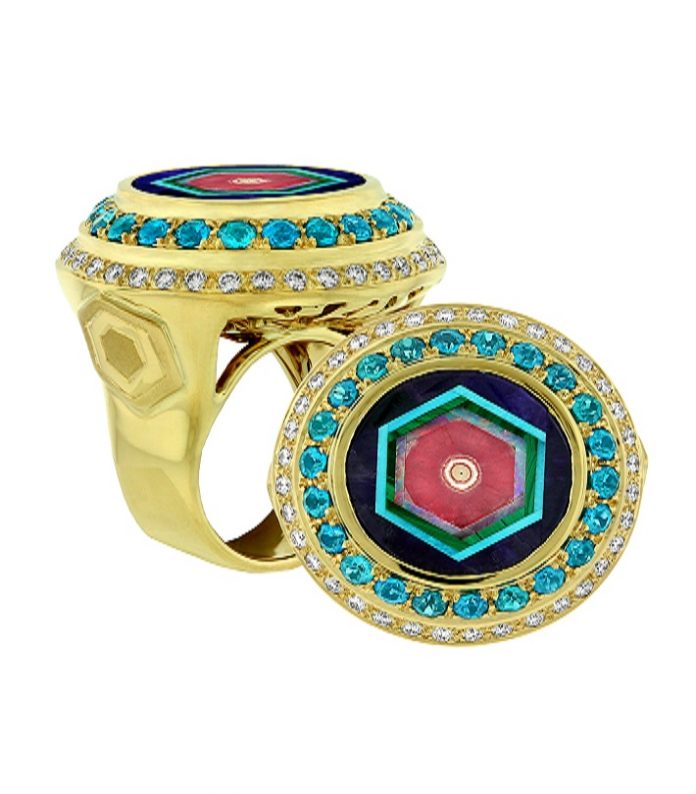 Raw and untouched, minerals are occasionally unearthed as specimens of exceptional beauty and rarity. When used for ornament—as an intarsia box, a carved instrument, sculpture or a remarkable piece of jewelry—minerals are altered as faceted gemstones, which meet a maker, ultimately being transformed into works of art. Wilensky, the Chelsea gallery exhibiting the art of exquisite minerals, celebrates craftsmanship that turns nature's marvels into the extraordinary. This winter, "Gemstone Masterpieces" debuts at the Wilensky Gallery on January 9th, 2020, running through February 21st, 2020. Featuring four world-renowned artisans, Paula Crevoshay, Manfred Wild, Nicolai Medvedev, and Naomi Sarna, each contemporary has mastered a gemstone medium, releasing an aesthetic vision from its mineral matrix.
Stuart Wilensky, President of Wilensky Exquisite Minerals says, "The lapidary arts are among the oldest in human history. It is of such great significance, that of the three major evolutionary moments we speak of this as the Stone Age. The earliest humans created objects from raw stone, mostly tools. Manipulating stone became an inextricable defining part of human evolution, and quickly went from focusing on the utilitarian to the aesthetic. It was not long after that many cultures created objects of beauty and adornment from stones. It is from this ancient human connection to stone that the modern lapidary arts emerged. The art of creating objects made of stone is integrated into the timeline of all art; it is inseparable from architecture, sculpture, and painting." He continues, "These four masters have never before been featured together. The fluid motion of Naomi Sarna, the elegant classic design of Manfred Wild, the meticulous craftsmanship of Nicolai Medvedev, and the brilliant colors of Paula Crevoshay. Here, they have come together to create a display that is unmatched, even among the world's finest museum collections. Each of the featured artists has received numerous honors and awards. Opening night will be very exciting, as three of the artists will be present in the gallery to discuss their work."
Paula Crevoshay has been acclaimed as one of the most influential jewelry designers, with trade press dubbing her "The Queen of Color" for her painterly approach to gemstone use. Developing original, one-of-a-kind jewelry, she enjoys collaborating with likeminded artists, and several pieces created with Nicolai Medvedev will be on display. Combining unusual gemstones, such as blue apatite and tsavorite in her Sea Breeze ring, or hauynite and black opal for her Enchanted Earrings is her signature; Crevoshay is always pushing the boundaries of juxtaposition.
On her most recent Medvedev collaboration, Paula says, "I have been collaborating with Nicolai Medvedev on my jewelry projects for over thirty years. I was honored when he invited me to collaborate on one of his boxes. Over four years of inspired effort resulted in our masterpiece, Garden of Delight – A Mystery Box. It promises to bring enchantment and pleasure to all who view it." Both the Garden of Delight Mystery Box and the Treasure Chest Box will be on display during "Gemstone Masterpieces."
Formally trained in fine art schools of Ashkhabad, Turkmenistan's capital, and art academies in Moscow, Nicolai Medvedev eventually gradually relinquished his paint brushes and squeezing ribbons of paints onto a palette. After immigrating to the United States, by the time he was 30 years old, Medvedev's works were covered with luscious colored stones in small strips, slabs, and tesserae instead of ground pigments—malachite, lapis lazuli, turquoise, and jasper. Today, he is considered a master of pietra dura, creating intarsia gemstone boxes that are internationally renowned and sought after.
Manfred Wild, a lapidary artist from the Idar-Oberstein, emerges from a family tradition of stone cutters, dating from 1630. Known for his objets d'art, Wild is recognizable by his superior craftsmanship, and unparalleled creativity, developing whimsical pieces for collectors worldwide. His rock crystal clarinet, which will be on display at Wilensky, is the only playable quartz clarinet in existence. Blossom Egg, considered a Wild masterpiece, is carved from a single block of rock crystal quartz, a feat previously thought unimaginable. It holds a treasure trove of blooming gemstones and jewelry inside, enchanting the viewer.
With a solo jewelry show at the Wilensky Gallery now through December 20th, 2019, Naomi Sarna returns to the gallery in 2020 with a collection of carved gemstone sculptures for "Gemstone Masterpieces." Sarna says, "My large carvings are my pure art. They are designed to be looked at and enjoyed by both mineral aficionados, and those who appreciate sculptural art. It is a joy to have my carvings on exhibition in the Wilensky Gallery, where minerals are celebrated as fine art."
To find the best material to carve, Sarna travels around the world, from Tanzania and Madagascar to Arkansas, visiting mines and hand selecting the rough that she turns into treasured objects. Ethereal carvings, such as "L'Heure Bleu," at 702 cts., the world's largest, fine tanzanite carving, are her trademark. Profits from the sale of L'Heure Bleu will be donated to the Maasai, to provide eye care for the community. Sarna's "Gates of the Mountains" is inspired by its namesake outside Helena, Montana— a 118 ct. carved almandine garnet homage to the majestic place, visited by Louis and Clark on their famous Missouri River expedition.
Featuring a historic gathering of monumental works by Nicolai Medvedev, Paula Crevoshay, Naomi Sarna, and Manfred Wild in the contemporary gallery space, "Gemstone Masterpieces" will run from January 9th through February 21st 2020, Monday through Saturday, from 11:00 AM – 6:00 PM at Wilensky, 173 10th Avenue, New York, NY, 10011. The opening reception will be held on January 9th, 2020, from 6:00 PM – 8:00 PM. For questions regarding exquisite minerals or sales of these masterpieces, contact the Wilensky directly at info@wilenskyminerals.com, call 646-822-0837, or visit the gallery online at http://www.wilenskyminerals.com. For press inquiries, or questions regarding this release, contact Olga Gonzalez at Pietra Communications at info@pietrapr.com, or call 212-913-9761.
About Wilensky
Wilensky has entered a new chapter with the opening of its gallery in the Chelsea art district of NYC, presenting exquisite minerals among the world's great art galleries, displaying them as works of art. The gallery opens up the mesmerizing world of exquisite minerals to everyone. Minerals are displayed alongside neighboring galleries exhibiting Warhol, Basquiat, Pollock and Picasso. Achieving the emotional impact of art through exquisite mineral specimens is the goal. Not a competition, but a convergence.