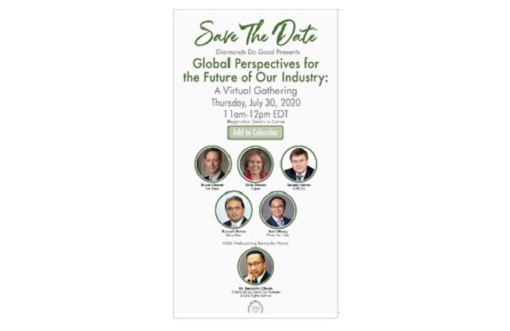 Non-profit organisation Diamonds Do Good, formerly known as the Diamond Empowerment Fund, will bring together key leaders from the retail and diamond sectors to share their viewpoints in its first virtual event on 30th July from 11am to noon EDT.
The participants include De Beers' Bruce Cleaver, Signet's Gina Drosos, Alrosa's Sergey Ivanov, Rosy Blue's Russell Mehta and Chow Tai Fook's Kent Wong in a live interactive event. Diamonds Do Good co-founder and civil rights advocate Dr. Benjamin Chavis will provide the opening remarks, along with a special appearance from magician and endurance artist David Blaine.
The event is free, although donations to support the work of Diamonds Do Good are greatly welcomed. Donations of $50 or more will receive a Green Bracelet as a thank-you gift.
"The world has undergone a seismic change over the last few months," says Diamonds Do Good president Anna Martin. "Learning how global companies in our industry are adapting will bring perspective for all businesses."
This will be the first in a series of virtual gatherings that Diamonds Do Good plans on hosting in the months to come. In between the global observations will be special 'segment interludes,' including Victoria Gomelsky announcing the winner of the Diamonds Do Good Jewelry Awards in partnership with JCK announced earlier this year.
Registration is free and will be announced soon on the Diamonds Do Good website on the About Us/Virtual Global Gathering page.
News Source : gjepc.org