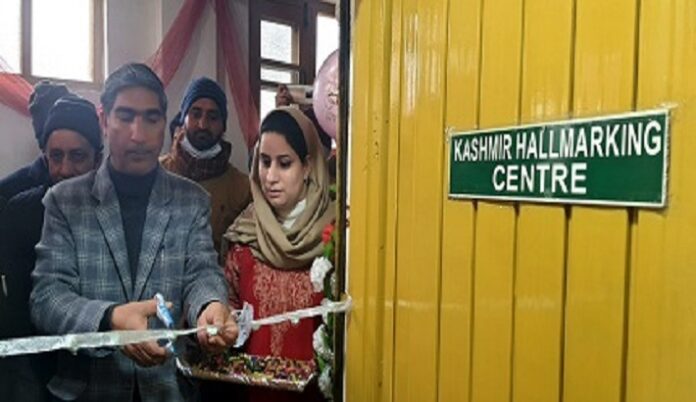 Kashmir Hallmarking Centre (KHC) has been recognized by the Bureau of Indian Standards (BIS), the National Standards Body of India. This centre is first of its kind in Kashmir and fourth in the Union Territory of J&K.
The centre has been funded under Seed Capital Fund Scheme of J&K Government and is sponsored by JKEDI. The owner of the centre, Bisma Gowher Qureshi welcomed the Chief Guest and highlighted the importance of Hallmarking of Gold Jewellery and protection of consumers from the frauds of admixture of metal in Jewellery.
Tanveer Ahmed, Joint Controller of Legal Metrology, gave a brief presentation about the process and procedure followed by BIS to accord recognition to an Assaying and Hallmarking centre. "From June 2021, in view of Government of India's regulation, Hallmarking is mandatory and will provide huge relief to consumers and goldsmiths alike. The purity of precious metals will be properly ascertained and defaulting parties can be penalized under various provisions of law," said the Joint Controller.
The Chief Guest, Director, JKEDI, G.M. Dar praised the efforts the young entrepreneur in establishing the centre for Assaying and Hallmarking. "I am very pleased that such a centre has been established in Srinagar. JKEDI makes continuous efforts to facilitate such entrepreneurs who understand the need of the society and market. This unit will cater to the demand of the market and will ascertain the purity of Gold Jewellery thus minimizing the frauds," said the Director. The director assured the centre owners of continued support.
The event was also attended by Assistant Director-CAPD, representatives of Kashmir Gold Jewellers Workers Association (KGJWA), Kashmir Gold Jewellers Association Anjuman-e-Zargaran (KGJAAZ) and other trade bodies of Srinagar. The participants raised many queries about the new regulations that will come into force in 2021. Experts from the Consumer Affairs Department answered all the queries and informed the participants about the benefits of hallmarking.