De Beers' diamond brand, Forevermark, unveiled its Red Carpet Collection 2018, at the same time championing the cause of gender equality, through a unique fashion show held on April 18, 2018, at Mumbai.
"Acknowledging the De Beers Group's three-year partnership with UN Women, Forevermark invited over 20 women who have contributed to women advancement and gender equality in their field of work, to walk the ramp," the Company announced elaborating on the unique nature of the fashion show.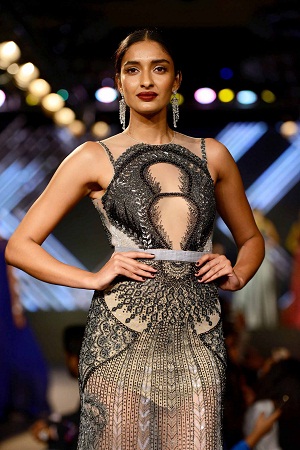 Forevermark added: "This partnership harnesses a commitment between De Beers and the UN to advance gender equality. As part of this commitment, De Beers has invested US$ 3 million to empower women in its diamond producing countries, across its business and in marketing campaigns."
Women achievers who walked the ramp alongside seasoned models included: Indian filmmaker, Ashwiny Iyer Tiwari, who has narrated stories of strong women characters through her films; Lucky Morani who promotes menstrual hygiene in villages through the NGO, Save & Empower the Girl Child; Mrunalini Deshmukh, a renowned lawyer who advocates gender justice and women's rights; Soudamani Sawant, an architect who provides education to domestic staff; and fitness enthusiast, Mala Mansukhani who specialises in wellness for women above 60 years. "All of these women were accessorised with beautiful, rare and responsibly sourced Forevermark diamond jewellery," Forevermark said.
Bollywood star, Taapsee Pannu, herself strong advocate of women empowerment, also graced the runway.
Bruce Cleaver, CEO of De Beers Group the UN Women 'HeForShe' Thematic Champion addressed the audience.
"The HeForShe initiative is the UN's global movement for the acceleration of gender equality and Mr Cleaver is one of eight global Thematic Champions who has committed to implementing policies and actions within their organisation to advance gender equality," Forevermark explained.
Nishtha Satyam, Deputy Country Representative for UN Women, said, "We look forward to the global partnership with De Beers to advance the cause of gender equality and the empowerment of women. There is great potential and synergy in this partnership to create meaningful impact. Such commitment from the private sector will help us progress towards achieving the Sustainable Development Goals by 2030, and leave no one behind."
The evening was ablaze with the sparkle of Forevermark diamonds as the brand's stunning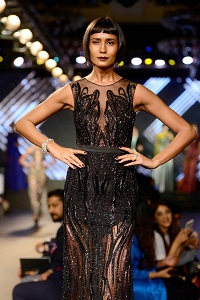 Red Carpet Collection of 2018 was unveiled on the ramp. Models sashayed down the runway displaying chandelier earrings, bracelets, palm jams, cocktail rings and statement necklaces. "Over 37 pieces of Forevermark jewellery from India were showcased at the 90th Academy Awards designed by Authorized Forevermark Jewellers across the country," the Company said.
Speaking on the occasion, Forevermark India President Sachin Jain, said, "Today marks a very special occasion. We are celebrating 'Diamonds' that do good. While we refer to responsibility in all aspects of our business, as part of our commitment to the UN women partnership, we are striving for the advancement of women and tonight marks the celebration of this initiative. Our exclusive Red Carpet Collection 2018 is another testimony to the celebration of women, I am proud to say that year after year our Indian retail partners have pushed the boundaries of creativity, craftsmanship and the world has stood up and taken notice. This collection signifies all that Forevermark diamonds stand for – timelessness, beauty, rarity, classic opulence with contemporary aesthetics, grace, love but most important – Responsibility and a commitment to make this world a better place."