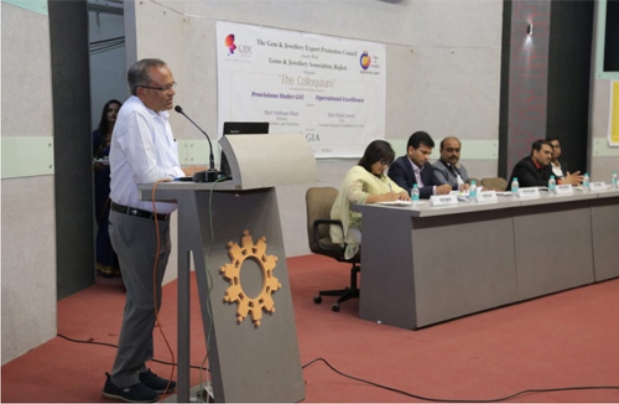 The Gem & Jewellery Export Promotion Council's (GJEPC) Surat Regional office recently conducted a week-long training programme on 'Navratna Identification' and an educational seminar on GST and Operational Excellence in Rajkot. Both the programmes were organised in association with the Gem & Jewellery Association, Rajkot and GIA India.
The seminar on October 7 was held under the banner of "The Colloquium" – an educational seminar series with speakers discussing issue such as GST and attaining Operational Excellence in the G & J trade.
Shri Nital Zaveri CEO, Concept Business Excellence Pvt. Ltd. shared his views on "Operational Excellence", emphasising that an improvement in processes related to manufacturing and sales would lead to better results in business.
Shri Nishant Shah, Partner, Economic Law Practices apprised participants on various provisions of GST and it's applicability to the G&J industry. He also presented details about the challenges being faced by the trade as well as the representations made by Council to the government in this regard.
Over 300 jewellers attended the seminar.
Earlier in the week, GJEPC, the GJA, Rajkot and GIA India had conducted a training programme under the banner of "Kaushalyam" – Committed to Excellence, where more than 40 members of the trade were upgraded their skills on "Navratna Identification".
Pic caption: Shri Dinesh Nevadiya, Regional Chairman, addressing the seminar in Rajkot. Also seen are the speakers Shri Nital Zaveri and Shri Nishant Shah and other dignitaries.
News Source: gjepc.org