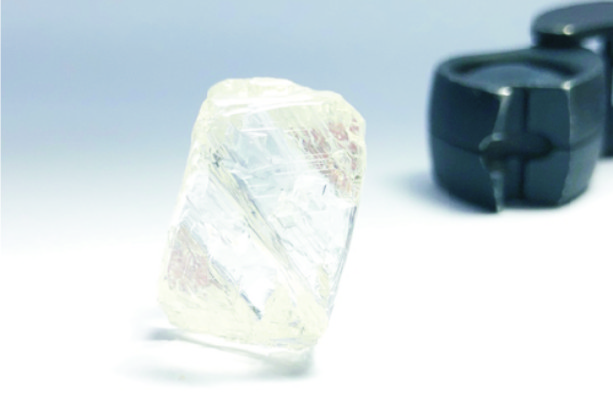 A 95-carat gem diamond has been recovered from the GahchoKué mine located in the Northwest Territories, Canada, Mountain Province Diamonds Inc. said in a statement released today. It was acquired by the Company, which is a 49% partner with De Beers Canada in the mine, as part of the fancies and specials at the most recent GahchoKué production split.
The diamond is a white octahedron of top clarity and is the largest gem quality stone and fourth largest stone recovered from the mine since production commenced just under two years ago, the Company stated.
Reid Mackie, the Company's Vice President Diamond Marketing, said, "The recovery of this diamond firmly establishes Mountain Province as a reliable producer of exceptional, high quality, Canadian diamonds in very large sizes and bodes well for the future discovery of similar gems."
The 95-carat diamond will be presented at Mountain Province's upcoming rough diamond tender with viewings to be held from June 11 through 22 in Antwerp, Belgium.
In an earlier announcement released yesterday, Mountain Province Diamonds Inc. said that it has entered into an understanding with Dominion Diamond Mines ULC under which their customers could certify polished diamonds that meet the qualifying criteria under the Canadamark™ certification program.
The Canadamark program is a strategic initiative of Dominion. Through its participation, Mountain Province joins Dominion in its efforts to assure the supply chain integrity of Canadian diamonds from mine to retail.
The Canadamark program verifies that diamonds are natural and untreated, and mined in Canada under a regulatory regime which protects the sustainability of the natural environment and northern people. Canadamark certified diamonds are tracked through independent, audited processes from mine of origin to polished stone, and polished to meet specific quality standards.
Said Reid Mackie, "We are excited that customers buying our share of the GahchoKué production can now apply for Canadamark™ certification. Once they are certified, our customers can confidently demonstrate the Canadian provenance of their goods and use this to enhance and support their individual branding programs. The unique characteristics of the GahchoKué production will help broaden the range of certified-Canadian goods available to consumers and consolidate market share of Canadian product under a consistent Canadian provenance standard."
Dominion's CEO Patrick Evans commented, "We are proud to partner with other diamond producers such as Mountain Province to promote the natural beauty of Canadian diamonds through the Canadamark program. Canadian diamonds are highly sought after by discerning buyers around the world who place special value on a product that has been responsibly mined, cut and polished."
Pic caption: 95.21 carat gem quality diamond recovered at GahchoKué
News Source : gjepc.org