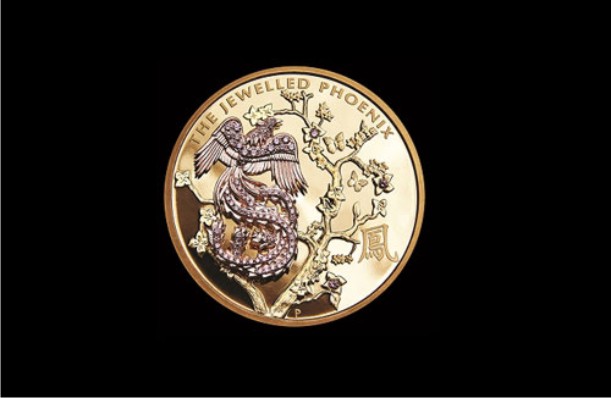 Rio Tinto and The Perth Mint today unveiled the first pave-set Argyle pink diamond gold coin in Berlin.
"Known as The Jewelled Phoenix, the coin is adorned with a delicately sculptured 18ct pink gold Chinese phoenix, hand set with a total of 1.22 carats of rare pink diamonds from Rio Tinto's Argyle diamond mine in the east Kimberley region of Western Australia," Rio Tinto described.
Perth Mint Chief Executive Officer Richard Hayes said: "Inspired by ancient Chinese legend, the fine detail and artistry of The Jewelled Phoenix has taken our craftsmanship to the next level."
The phoenix is said to embody the values of virtue, compassion and trust, and is revered as the "immortal king of birds". It is also considered to be a symbol of happiness and prosperity .
Rio Tinto announced that only eight — a number considered extremely lucky in Chinese culture — Jewelled Phoenix coins will ever be released.
Rio Tinto Diamonds Global Marketing Director Josephine Johnson commented: "Our Select Atelier™, The Perth Mint, and our Authorised Partner™, John Glajz, have created a unique and precious coin that is sure to command the attention of collectors the world over."
The Jewelled Phoenix will be showcased at the prestigious 47th World Money Fair in Berlin from February 2-4, 2018.
News Source: gjepc.org