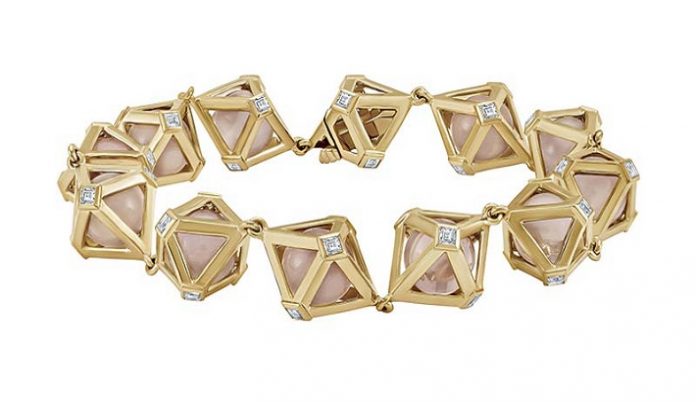 This Atelier Swarovski x Stephen Webster bracelet is made of recycled 14-karat yellow gold, Swarovski-created diamonds, and Swarovski-created rose quartz. The highest priced item in the collaboration, it retails for $11,000.
London—Atelier Swarovski, the fashion jewelry arm of Swarovski, has collaborated on a line of lab-grown diamond jewelry with Stephen Webster.
"Double Diamond" features Swarovski-created diamonds and is geared toward the "conscious-minded luxury consumer," Swarovski said in a press release.
Highlighting the environmentally friendly aspect of lab-grown diamonds, the collection also embodies the responsible jewelry angle with its use of recycled 14-karat gold and Swarovski-created rose quartz.
Webster's inspiration for "Double Diamond" stems from the stone's natural formation, however. The collection pays homage to the octahedron shape of rough diamonds by encasing Swarovski-created stones in octahedron gold "frames" that lend the range a modern, geometric feel.
"The Double Diamond collection for Atelier Swarovski embraces the disruption and modernity of lab-created diamonds," Webster explained. "Inspired by the octahedron form of an uncut diamond crystal, Double Diamond is a contemporary jewelry collection uniting nature with technology and responsibly-sourced materials, to create a glamorous and provocative jewelry collection for the modern luxury consumer who is ready for the change."
Nadja Swarovski, who created Atelier Swarovski in 2007, added, "At Swarovski, we keep people and planet in mind when we design, source and manufacture our jewelry, and it has been a true pleasure to work with Stephen on this beautiful new collection and to further explore our shared journey in conscious luxury."
The Stephen Webster "Double Diamond" collection is available this month at London members-only club The Conduit and AtelierSwarovski.com.The collection starts at $1,990 and caps off at $11,000.
NewsSource: nationaljeweler.com