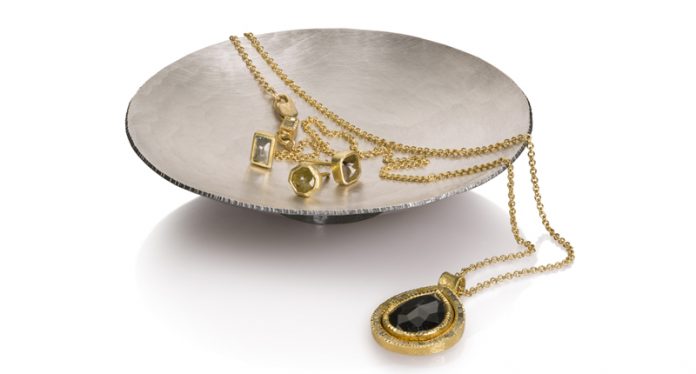 Boulder, Colo.–Last year marked Todd Reed's 25th year in business and now the designer is branching into a new category.
He is creating collectible handmade boxes, bowls and spoons, sold on his website, in his Boulder showroom and by some of the jewelers who carry his line.
Reed created the items with function in mind; the objects aren't merely decorative but are intended to be used.
"They are unique, beautiful, and collectible. Use them," he said. "Bowls can be filled with spices. Float a flower in a bowl filled with water. Keep your Todd Reed jewelry in one of our boxes. Give a spoon as a gift for a newborn or just because it's a cool, fun gift."
Boxes are rendered in metal, some with metal lids with flush-mounted diamonds, and some with hinged or removable stones as lids in materials like Swiss jasper and Apache gold.
The bowls are hand-forged in Reed's Boulder showroom at the newly renovated forging space, where visitors can view Todd Reed artisans crafting silver into small bowls accented with diamonds.
Reed has long created spoons as gifts for family and friends and has introduced several new iterations in honor of his 25th year in business.
Prices for the pieces currently available start at $825 for a small bowl in sterling silver with patina and culminate at $27,000 for the "Honeycomb Box," which is rendered in 18-karat yellow gold and patina sterling silver.
Each piece is marked with the hallmark of the specific artisan who crafted it. Items made in 2017 are also stamped with a special symbol in honor of the brand's anniversary.
News Source : nationaljeweler.com