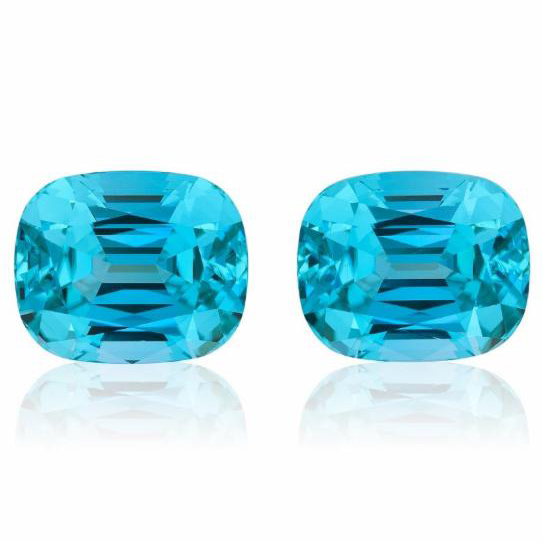 The AGTA Spectrum and Cutting Edge Awards is already the most important and prestigious colored gemstone competition in the world. According to Douglas K. Hucker, CEO of the American Gem Trade Association, which sponsors the annual event, this year's group of approximately 500 entries shows that the competition just gets better.
"It is evident that the entrants take this competition very seriously," Hucker said.
The Spectrum Awards, which honors the best in jewelry design using colored gemstones, usually gets the lion's share of the publicity. However, this year it is the Cutting Edge Awards that stood out with it's the rare gemstones, and the craft and artistry of the lapidaries. For example, the Best of Show was a pair of neon blue tourmalines and two pieces by gem artist, Naomi Sarna, which won overall awards. In the Objects of Art category there were three exceptional finalists with the winner creating a working kaleidoscope using gems to create the patterns inside.
Below are the best gems and jewels from a very competitive field.
Overall winners of Spectrum and Cutting Edge Awards
Best of Show (top photo)
Mikola Kukharuk of Nomad's with a pair of neon blue tourmalines (53.56 ctw.).
Best of…
Best of Show
Mikola Kukharuk, Nomad's: 53.56 cts. t.w. pair of neon blue tourmalines
Best Use of Color
Naomi Sarna, Naomi Sarna Designs: 18k and 24k yellow and 18k white gold maple leaf earrings featuring multicolored diamonds, sapphires, and garnets
Best Use of Pearls
Naomi Sarna, Naomi Sarna Designs: freshwater cultured pearls strung with sunstone beads with an 18k yellow gold and black rhodium clasp set with white, pink, and green diamonds
Best Use of Platinum and Color
Eddie Sakamoto, Somewhere in the Rainbow: platinum Dancing Waves neck collar with 57 ct. aquamarine and 8 cts. t.w. diamonds

Fashion Forward
Ardeshir Dabestani, Asha Gallery: 18k white and yellow gold Solar Flare back-drop necklace with 436 ct. citrine, 44.5 cts. t.w. aquamarines, 87.3 cts. t.w. yellow beryls, and 23.54 cts. t.w. diamonds
AGTA Spectrum Awards
Bridal Wear—1st Place
Ricardo Basta, E. Eichberg Inc.: 18k white gold and rhodium Double the Love ring with 12.62 ct. heart-shape blue zircon, 0.75 ct. heart-shape diamond, and 1.53 cts. t.w. diamond pavé
Business/Day Wear—1st Place
Adam Neeley, Adam Neeley Fine Art Jewelry: 18k rose and 14k rose and white gold Cosmos pendant with 24.06 ct. specialty-cut morganite and 3.14 cts. t.w. diamonds
Classical—1st Place
Allen Kleiman, A. Kleiman & Co.: platinum and 18k pink gold earrings with 36.65 cts. t.w. unheated oval pink sapphires and 5.09 cts. t.w. diamonds
Evening Wear—1st Place
Eddie Sakamoto, Somewhere in the Rainbow: platinum Dancing Waves neck collar with 57 ct. aquamarine and 8 cts. t.w. diamonds
Men's Wear—1st Place
Ricardo Basta, E. Eichberg Inc.: 18k yellow gold with black rhodium Estrella ring with 7.5 ct. starburst trapiche sapphire, 0.64 ct. t.w. black diamonds, and 0.52 ct. t.w. yellow sapphire melee
AGTA Cutting Edge Awards
All Other Faceted—1st Place
Brett Kosnar, Beija Flor Wholesale: 24.26 ct. round Portuguese-cut rhodochrosite
Carving—1st Place
Meg Berry, Pala International: 625 ct. chyrsocolla with druzy quartz carving, titled "Metamorphosis"
Classic Gemstone—1st Place
David Nassi, 100% Natural Ltd.: 15.3 ct. unheated Ceylon pink sapphire
Innovative Faceting—1st Place
Christopher Wolfsberg, Chris Wolfsberg: 32.75 ct. specialty-cut quartz with chrysoprase and opal
Objects of Art—1st Place
Derek Katzenbach, Katzenbach Designs: Colors of Maine kaleidoscope with 71.74 cts. t.w. multicolored Maine tourmalines and 24.92 cts. t.w. Maine quartz lenses in 18k yellow and white gold
Pairs & Suites—1st Place
Mikola Kukharuk, Nomad's: 53.56 cts. t.w. pair of neon blue tourmalines
Phenomenal—1st Place
Joel Price, Joel Price: 100.66 ct. harlequin pattern black opal
News Source: agta.org/