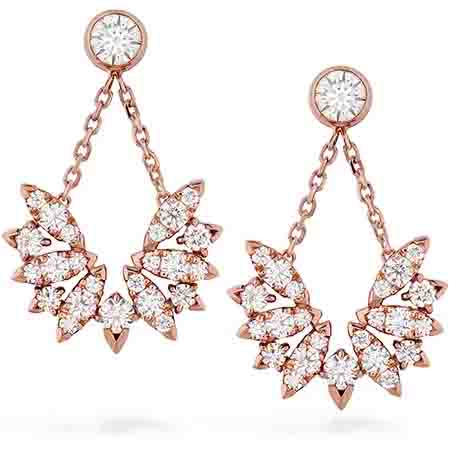 The White Kites collection from Hearts On Fireby Stephen Webster is the first partnership between the two as well as the first designer jewelry collaboration for the proprietary diamond jewelry house. Led by Italian native Ilaria Lanzoni, White Kites takes inspiration from birds of prey in rose and white gold for resulting looks that are powerful and "display the timeless beauty of Hearts On Fire diamonds," according to the brand.
"For the first collaboration between Stephen Webster and Hearts On Fire it was crucial that we used inspiration to create pieces that are instantly recognizable as SW designs while at the same time ensuring the diamonds are the heroes of the collection," Webster told the press upon release of the news.
"Today's consumer is always looking for something new and exciting, and as a rapidly growing, global brand, we wanted to be able to expand our fashion offerings to meet that demand," explained Caryl Capeci, president of Hearts On Fire in a statement.
White Kites includes collar necklaces, rings, statement cuffs, chandelier earrings, ear cuffs, and more. The collection will be available for sale at Hearts On Fire and Stephen Webster retail boutiques worldwide, as well as at Neiman Marcus, Saks Fifth Avenue, and select fine jewelers. White Kites is open for purchase from Hearts OnFire stockists.
Earrings in 18k rose gold with colorless diamonds from the White Kites collection
News Source : JCKOnline.com